10 mai 2010
1
10
/

05
/

mai
/

2010
10:15
King Kerosene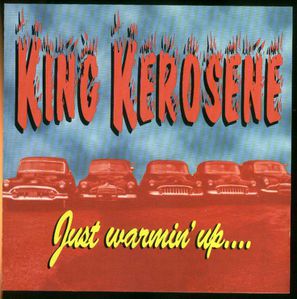 est une formation de néo rockabilly originaire du New Jersey (USA) qui se forme en 1995. Nous y trouvons Scott Murphy (chant et guitare), Anthony Saporito (Contrebasse) et Mike Saporito (batterie), en 1999 ils enregistrent pour Kero Scene records (K9901) un fabuleux album Just warmin' up... composé de 10 compositions originales de Scott.
Ce qui est bluffant à l'écoute de cet album, c'est tout d'abord le style à la fois moderne et plein de subtilité loin du psycho, du style Teddy boys, du Rockabilly authentique ou des Stray Cats et qui quelques part à su prendre un peu à chaque style pour créér réellement un style trés originale. Ensuite c'est la qualité de chacun des 10 titres qui sont des tubes en puissances, chacun ayant une mélodie ne ressemblant à aucun titres ayant existé.
Nous trouvons donc les titres Another drink (magnifique) , This old truck, Five more minutes, Right to know (quelques sonorités ici rappellent quand même les Stray Cats), Fifteen seconds (assez néo rockabilly classique), Totally Crazy (Rockabilly pop fantastique avec trés belle rythmique de Slapping basse), Evil twin (néo rockabilly au son moderne), Veronica (encore une véritable perle de néo rockabilly avec une mélodie géniale), Stay with me (petit chef d'oeuvre qui paraîtra sur la compilation Rockabilly hall of fame vol 1)
J'adorre ce disque mais il ne conviendra pas à un amateur exclusif de Rockabilly authentique.