6 février 2013
3
06
/

02
/

février
/

2013
19:07
Cherry Tess fait partie des chanteuses de rockabilly qui envahissent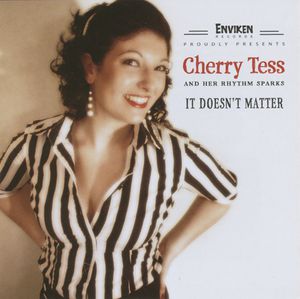 la scène à la fin des années 2000's son premier album It doesn't matter sort sur Enviken et se compose de boogie rock comme Did You Know , I'm Gonna Tell , It Dosen't Matter, Just A Little More Lovin', Old Time Rock & Roll (de Joe Cocker) et Making Love With You Babe, du country rock Cinnamon Tree et Romeo, du rockabilly medium Fifteen Seconds (dans la veine de Wanda Jackson), Look At The Fool, du white rock avec You Lied To Me Honey, du honky tonk rock comme I'm So Pleased With You, du pop rocker comme Big Love, du jump rock avec Where Why How, et du rock n' roll classique avec Lover Please (de clyde Mc Phatter).
Album parfait entrainant, irréprochable musicalement du grand rock n' roll.
Devant la grande de qualité de cet album en 2010 Enviken renvoie Cherry Tess and the Rhythm Sparks pour un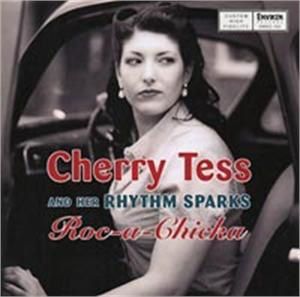 second album Roc-A-Chicka. Comme le précédent touche à plusieurs style le rockin' blues avec Cry and smile et the wooble (de Clarence Frogman Henry), le rock 'n' roll blanc avec Rock a Chicka (cover de ), Youre driving me mad (cover de Joe Ann Campbell) et I thought I told you not to tell him, ,le rockabilly baby i'm gone, Stop look and listen baby (medium) et Cry and smile, du country rock avec What did you want of me (aux style rappelant les Burnette brothers), et Call it a day , du boogie rock avec Don't call me crazy, Gotta lotta that et I'm not to blame, une ballade country dans le style Presley début sixties It's a sin, et du rock 'n' roll rapide dans le style de Little Richard ou Don & Dewey avec rock and roll in the groove.
Assez incroyable mais ce second album est aussi bon voir supérieur au précédent, une merveille.
En 2012, elle enregistre son troisième album toujours pour Enviken You can't plan a thing.
Nous trouvons du white rock Tick Tock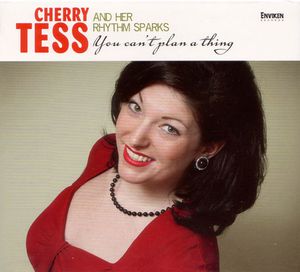 (dans le style de Spish splash), Still in love with you (une merveille) et Fire in the hole, du country rocker avec Im comin home (dans le style de Mona lisa de Carl Mann), Next one in line, You can't plan a thing du rockabilly avec Kiss you at first sight (autre classique), I cant tell et le trés original I'm so nervous un western swing Bunny boy, du jump rock avec Allright ok you win et du boogie rock avec Oh babe , Funny looking thing (proche de Flying Saucers Rock 'n' roll)et Now do you hear.
Ce dernier album est dans la même veine que les deux précédent soit de l'excellent et indispensable rock n' roll.