17 janvier 2010
7
17
/

01
/

janvier
/

2010
14:06
Colin Winski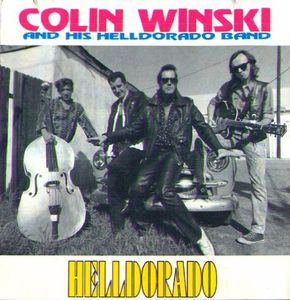 s'est rendu célèbre par sa participation aux Rockabilly Rebels de Ray Campi à la fin des années 1970 et au début des années 1980, immortalisé dans le film Blue Suede shoes (voir l'article sur le film présent sur le blog)dans lequel ont peut voir Colin interpretté sur scène une version ultra wild du titre Rock therapy de Johnny Burnette & Rock n'roll trio.
Winsky est né à Venice (Californie), dés les années 70 il devient un des protégés de Ronnie Weiser créater du label Rollin' rock (voir les articles sur le sujet présent sur le blog), c'est durant cette pèriode qu'il rejoint le groupe de Ray Campi The Rockabilly Rebels alors qu'il n'est agé que de 15 ans.
Colin apparait dans le film porno Teenage cruisers, est dans les lps de Ray Campi Born to rock et Wildcat shakeout (voir l'article du blog sur le sujet). Winski et Jerry Sikorski (autre membre des Rockabilly rebels) forment leur propre groupe The Rebels et font de nombreux concerts dont certains en première partie de The Clash ou Tom Petty. En 1980 Winski enregistre son premier album solo Rock Therapy et en 1993 un second album Helldorado.

Je possède le second album Helldorado, ce dernier est édité sur Fury records (FCD 3027) et contient 16 titres. dont de nombreuses composition de Winsky comme Wolfy boogie (une instrumental boogie rock), Cool Love (un néo rockabilly bien mené), Bone tired (un rockabilly nerveux), King of the drapes (est un néo rockabilly fabuleux rapide véritable classique du genre) et Nervous and Exhausted (néo rockabilly médium et psychotic) et au niveau des covers nous trouvons Rockabilly funeral (c'est un Rockabilly écrit par Blackie Farrel pour Bill Kirchen en 1993), I'm lonesome (des Maddox brothers), You're the one that done it (de Thomas Wayne), We wanna boogie (de Sonny Burgess), The End / Sleepwalk (version personnelle et chanté de l'instrumental classique de Santo and Johnny), Down the line (de Buddy Holly pèriode rockabilly), Rockin my life away (popularisé par Jerry Lee lewis), Bertha lou (connu par Johnny Faire , Clint Miller, Dorsey Burnette et les Meteors), Set you free (ballade country), Ruby Pearl (classique de Jackie Lee Cochran) et Lordy Hoody (de Tommy Blake).
Colin Winski-Rockabilly Funeral
Colin Winski - We wanna boogie