24 juillet 2010
6
24
/

07
/

juillet
/

2010
10:32
Le label Pollytone voyant la demande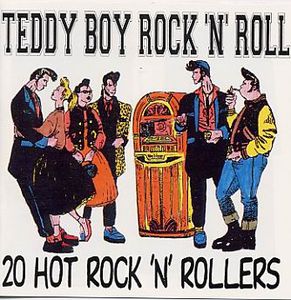 d'un festival spécifiquement réservé à la scène rockabilly teddy boys, décide au début des années 1990's d'organiser le Teddy boy rock 'n' roll weekender.
C'est évidemment l'occasion pour le label de sortir des compilation rprenant les groupes qui passent lors de ce festival.
J'en possède trois, le premier d'entre eux Teddy Boy Rock 'n' roll - 20 Hot Rock 'n' rollers (PEP CD 104) propose 20 titres studios (et non live) nous trouvons les formations classique du style comme Crazy Cavan & Rhythm rockers avec Teddy By Rock 'n'roll, Graham Fentons & Matchbox avec Ain't Misbehaving une composition bien faite en hommage à Gene Vincent et I knew the bride (un titre de rock n'roll composé par Nick Lowe et chanté par lui même et Dave Edmunds durant les 1970's) , The Jets avec Whole town's rockin', The New sunsets qui est la reformation des légendaires Sunsets qui accompagnait durant les 1970's Shakin' Stevens durant sa pèriode la plus rock n'roll avec Cut your pay, Flying Saucers avec une composition du chanteur du groupe Sandy Ford Oh! what a shame, Freddie Finger's Lee avec son frantic Baby doll et The Riot Rockers avec Cast iron arm (titre 1950's de Peanuts Wilson), mais également des formations de la scène anglaise des 1990's comme le groupe phare du label The Firebirds avec Time keeps movin' on, Bob and the Bearcats avec Time keeps movin' on, The Rapiers au son inspiré par The Shadows avec Breackfast at the ace (en hommage à l'Ace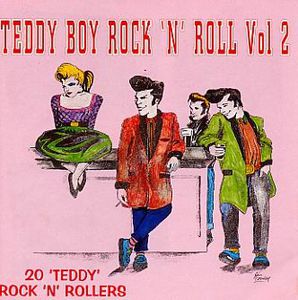 Cafe le café des rockers roulant en moto de type cafe racer durant les sixties) , Kitty Little au style rappelant les faces les plus rocks de Brenda Lee avec Let's have a party (chanté par Elvis et Wanda jackson), Jean Vincent une des chanteuses les plus caractéristiques de la scène rock n'roll anglaises de la fin des 1980's avec la composition Gene's on the Jukebox, Johnny Fox & the Hunters avec leur composition Rock n'roll teddy boy Skippin' & boppin' et le groupe Fairlane rock avec le titre Fairlane rock (cover d'un rockabilly Sun de Hayden Thompson plutôt authentique). Ensuite nous trouvons des groupes de la scène Teddy Boy du monde entier comme The Confederate Teds de France avec Rockabilly girls, the Teen Cats de Scandinavie avec Teddy Bop, Dixie Fried dans un style plutôt néo rockabilly avec Let's go, The Razorbacks du Canada avec la cover de Bobby Fuller I fough the law et l'album se termine par un titre en live de la légende des sixties du rock n'roll anglais Screamin' Lord Sutch avec Johnny Be Good (de Chuck Berry).
Le volume 2 Teddy Boy Rock 'n' Roll Vol2 - 20 Hot Rock 'N' Rollers (Pollytone records PEPCD 107) correspondant au second festival (si vous me suivez?) nous permet de retrouver des formations présentes sur le premier volume comme Crazy Cavan avec Teddy Boy boogie, Matchbox avec Dance in the street (cover de Gene Vincent & the Blue Caps) et leurs classique Rockabilly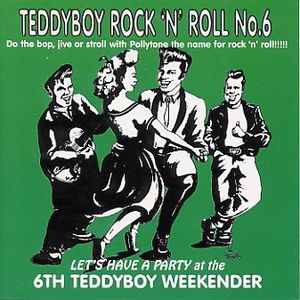 rebels, Kitty Little & the Roamin' Toms avec Rock the Bop (cover du premier succés trés rock de Brenda Lee) et I love you 'cause (cover de Carlene Carter), The Firebirds avec Baby blues et 59 Ford, Jean Vincent avec le rockin' blues I'm in love, Flying Saucers avec Loves to blame, Johnny Fox avec Hot rod man (de Tex Rubinovitz) et Bob and the Bearcats avec Run tough, run hard, et des groupes de la scènes revival rockabilly britanique des 1990's comme The Backbeats avec Whole lotta shakin' et I'm on fire (popularisé durant les fifties par Jerry Lee Lewis), Kid Rocker & the Rackateers avec Real wild child (du rocker australien Johnny O Keefe) et et Mercury blues (un traditionnel de KC Douglas de 1949) Twenty Flifht Rock avec Goosebump, Lucas & Dynamos avec leur I like my music de style Jump and jive et les Rockin' Bandit avec leur composition doo wop Angel girl. Le seul artiste étranger est l'américain Colin Winski avec son classique King of the drapes.
Ensuite je possède le Teddy Boy Rock 'n' Roll N° 6 (Pollytone records PEPCD121) nous retrouvons The Firebirds avec Lovers who wander (cover de Dion) et Top hat & tails, The Jets avec Lookin' pretty good, Lucas and the Dynamos avec Rockin' at the Rosecroft et Gonna type a letter. Nous trouvons aussi un rocker anglais des fifties le sauvage Wee Willie Harris avec Wild one (Johnny O Keefe) et Sea cruise (cover de Frankie Ford), des formations britaniques comme The Rock -a-beats avec Three alley cats (Don woody) et Shim sham shimmy, Blast off avec The Stroll et Rockin' to the music, The Wanderers avec Do it all over again (une composition de rockabilly authentique de toute beauté)et My baby don't like rock n'roll et Greggi G & the Crazy Gang une formation Jump and jive avec Giddy up a ding dong (cover de Freddie Bell & Bellboys) et Rockin' at the Rosecroft, au niveau des groupes étranger à la la Grande Bretagne nous trouvons une formation allemande The Kentucky Boys avec Wild cruisin'cat et l'instrumental No name, une formation autrichienne Little Frankie & the Townbeats avec Woodo woman,
Jean Vincent - Gene 's on the jukebox