1 février 2010
1
01
/

02
/

février
/

2010
17:20
Deuces Wild est un trio de néo rockabilly du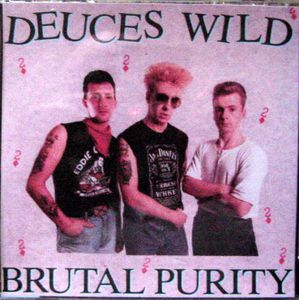 Nord Ouest de l'Angleterre (Blackpool et Manchester) formé par Pete Hague à la guitare et chant, Si Roth à la batterie et Ray Walmsey à la contrebasse. C'est en 1986 que commence l'histoire commence lorsque le groupe s'appelait Way out west et enregistre un album pour Fury records She's just rockin'. C'est en 1989 qu'ils changent de nom pour Deuces Wild et enregistre en pour Fury l'album Brutal Purity, en 1992 ils enregistrent un second album cd pour Raucous records Johnny Rider.
Je possède Brutal Purity en réédition cd de 2006 pour Vampirette (Vampcd 106) qui contient que des compositions de néo rockabilly avec une forte influence stylistique des Stray Cats nous trouvons Just alright (néo rockabilly au style moderne), Diamonds at her feet (super rockabilly électro aucoustique), What the colour is the sky "on your planet " (un néo rockabilly carrément Stray Cats), Make that date (Néo rockabilly au style moderne manquant de mélodie), Never came back ( rock à la Stray Cats), Decision on love (Country Rock n'roll à la Dave Edmunds), Am i wrong ( Néo rockabilly à sonoritées blues), Look that looks good (un rockin' blues à la Baby please don't go avec une pointe de néo rockabilly), Sweet love from you (un bon rockabilly qui balance ), Deuce Wild # 2 ( un néo rockabilly énergique ), Blues so bad (une ballade bluesy particulièrement réussie à écouter), Brutal Purity est un instrumental particulièrement violent qui frise avec le Psychobilly. Ensuite sur cette édition se place 3 bonus tracks: Radiation ranch (un néo rockabilly trés interressant cxar sans l'influence des Stray Cats) Deuces Wild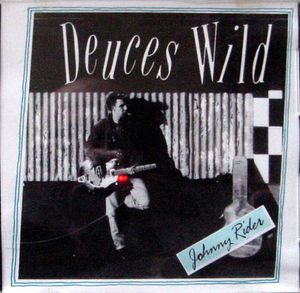 (une autre version du titre homonyme mais en plus soft et supèrieure à mon goût) et City bound est un rockabilly médium électro accoustique trés réussi.
l'album cd Johnny Rider qui sort en 1992 sur Raucous CD (RAUCD 004) est composé de compositions et de covers au niveau des compositions de Hague nous trouvons Cadillac rust (un néo rockabilly interressant), Out on my own (une trés bonne ballade rock n'roll dans le style des Stray Cats de l'album Sexy's and 17), No time for that (un néo rock n'roll à sonorité bluesy), Johnny Rider (un néo médium rockabilly à mon goût le meilleur titre de l'album avec bonne une mélodie et un style personnel parfaitement rmaitrisé), I'll be right here (un trés bon néo rockabilly plus personnel) ensuite nous trouvons des covers Completely sweet d'Eddie Cochran, Cool shake, Tear it up un rockabilly de Johnny Burnette and Rock n'roll trio, Sugar in my coffee et Lodi de John Fogerty dans les Creedence Clearwater Revival.

En conclusion Deuces Wild est un groupe de néo rockabilly de qualité mais qui surtout dans son premier album à du mal à sortir de son influence stray Cats et c'est dommage, les meilleurs titres étant souvent ceux dont le style est plus personnel. Pour cela à mon goût l'album Raucous est plus interressant.


Deuces Wild
Cadillac Rust
Am I Wrong
Completely Sweet

Deuces Wild Play "Johnny Rider" Live In Chester 16 06 09
Deuces wild - Tear it up