30 septembre 2012
7
30
/

09
/

septembre
/

2012
23:07
Juvenile Delinquents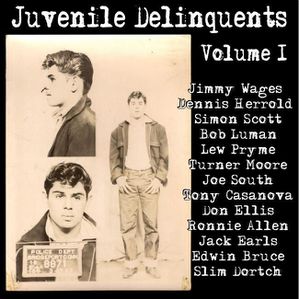 est une série de 10 compilations réalisé par le label Luxel en 2008. Chaque volume contient une moyenne de 30 titres tous sont du white rock ou du rockabilly et de préférence de tempo rapide voir sauvage. Ce qui est amusant c'est la présence sur chaque volume de titres d'artistes trés connus au côté d'autres plus obscures, mais sans vraiment de thématique précise sur chaque volume. Mais évidemment ce qui est le plus singulier est le concept esthétique des pochettes qui utilise de véritables photos de police des années 1950's de délinquent juvéniles.
Sur le volume 1 nous trouvons: Ronnie Allen - Juvenile Delinquent (un classique du white rock de circonstance!!), Ed Bruce - Sweet Woman (un rockab incontournable de chez Sun), Bobby Martin - There Ain't No Nothin' Tonight, Benny Joy - Wild, Wild Lover (un des r=artistes les plus sauvages du white rock avec un titre moins connu), Marv Benton - Worryin' Kind (une cover de Tommy Sands), George Darro - Southern Twist, Al Ferrier - Honey Baby (une légende du rockabilly de louisiane), Simon Scott - Move It (cover de Cliff Richard), Elvis Presley - C'mon Everybody (le king avec un titre sixties n'ayant rien n'a voir avec le classique d'Eddie Cochran), Slim Dortch - Big Boy Rock,Gene Brown - Big Door, Dennis Herrold - Hip Hip Baby, Lew Pryme - Tallahassie Lassie (cover du rock de Freddie Cannon), Don Ellis - Blue Fire, Steve Kingsmill - Well Come On, Ralph - I've Got It, Gray Montgomery - Right Now, Jimmy Wages -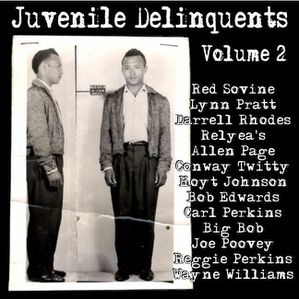 Miss Pearl (un autre classique du rockab sun records), Turner Moore - I'll Be Leavin' You, Bob Luman - This Is The Night (le titre qu'interprette Bob dans le film Carnival Rock de 1957), Curtis Long - Koosie Coo, Jack Earls - Take Me To That Place (une légende de Sun records), Bobby Fuller - Think It Over (le créateur de I fought the law dans une cover de son idole Buddy Holly), Joe South - I'm Snowed (face rare de cette future vedette country), Deran Richie - Girl And A Hot Rod, Rich Roman - T.T.B., Bracey Everett - Lover's Curse, Dick Dale - Jessie Pearl, Buddy Holly - Good Rockin' Tonight (Buddy dans une version rare de Roy Brown inspiré par la cover d'Elvis), Tony Casanova - Showdown.
Sur le volume 2 nous trouvons: Sonny West - Rockola Ruby (un classique du white rock sauvage), Bill Swing - Messed Up, J.R. White & The Starbrites - Rock 'N' Roll twist, Bill Watkins - Big Guitar (légende du rockab), Eddie Cochran - Don't Bye Bye Baby Me (dans un titre rare), Spades - When I Get To Goin',Bob Edwards - What'll I Do, Los Locos Del Ritmo - Polvora (du rock 'n' roll en espagnol), Carl Perkins - Her Love Rubbed Off (le créateur de Blue suede shoes dans un autre de ses chef d'oeuvres), Lynn Pratt - They're Learning, Conway Twitty - Long Black Train (le fameux rockabilly de Conway trés proche de lonesome train de johnny Burnette & Rock 'n' roll trio), Robert Fort - So Good, Joe Poovey - Silence Baby (son génial médium rock),Hoyt Johnson - Standing In Your Window, Allen Page - Dateless Night, Rhythm Rockers - Thinking About You,
Red Sovine - Juke Joint Johnny (un trés bon rockab par une star country), Floyd Dakil Four - Kitty Kitty, Darrell Rhodes - Lou Lou, Wayne Williams - Red Hot Mama, Bill Davenport - Rock & Roll With Mom & Dad, Johnny Hallyday - Garden Of Love (eh oui le Johnny français dans un titre en anglais de 1962), Sonny Wilson - I' Ain't Givin Up Nothin', George Fleming - I'm Gonna Tell, Henry Levoy - Baggie Maggie, Reggie Perkins - High School Caesar, Big Bob - Your Line Was Busy, Shutdowns - Four In The Floor, Relyea's - Country Boy, Johnny Reed - Lost Love Blues.
Voilà avec ces deux volumes détaillés un avant goût de la série, une ambiance stylistique et musicale assez particulière qui raviera les amateurs de rock 'n'roll qui ne fait pas dans la dentelle.
Rapidement sur le volume 3 nous trouvons entre autres les Teen Kings (Roy Orbison chez Sun) avec A cat called Domino (le morceau Domino!!), Johnny Burnette avec Wampus Cat (un titre Rockab sans R 'n' r trio), Sanford Clark avec son white rock medium Modern Romance, Bobby Lee Trammell avec son boogie rock Shirley Lee, Rusty York (l'auteur de Sugaree) avec la cover de little Richard The girl can't help it, Charlie Feathers avec Rain, Al Ferrier avec What is thing called love ....
Sur le volume 4 nous trouvons entre autres le rockabilly classique et medium Eager Boy par the Lonesome Drifter, Jungle Rock par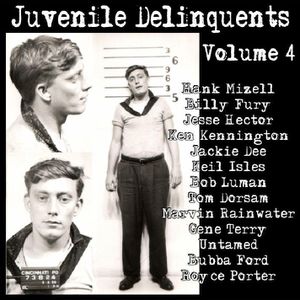 Hank Mizell, le rocker anglais Billy Fury avec Gonna type a letter, Hasil Adkins avec Truly ruly, Marvin Rainwater avec Mr Blues, Luke Mc Daniel (de chez Sun) avec Huh babe, Clyde Stacy (une légende du white rock) avec I'll be rockin', Billy Lee Riley (toujours Sun) avec Rock with me baby, Bob Luman avec le rare Buttercup, Jack Scott avec Stick around baby, Jackie Dee avec Buddy (un classique du rockab féminin sur Imperial records et premier titre de la chanteuse Pop Jackie De Shannon), Jesse Hector (un rocker anglais) avec Fast train to Memphis et Johnny Carroll avec Rockin' Maybelle (de la BO du film Rock baby rock it)....
Sur le volume 5 nous trouvons entre autres Peanut Wilson avec la cover des Bell Notes I've had it, Johnny Horton avec son medium rockab Lovers Rock, Ronnie Self avec une version live de son explosif Bop a lena, Tommy Roe (une teenage idol) avec Caveman, Dorsey Burnette ( le frère de Johnny avec une face sans le R 'n' r trio) avec Let's fall in love, Harold Jenkins (alias Conway Twitty) avec la cover du Rockhouse de Roy Orbison, Fabian (une autre Teenage idol) avec Got the feeling, Vince Everett un des chanteur les plus connu dans la lignée d'Elvis avec Don't go et le Rockabilly singer des 1970's Billy Zoom avec Bad boy (cover de Marty Wilde)...
Sur le volume 6 nous trouvons entre autres beaucoup de rockabilly singers de chez Sun comme Johnny Cash avec Big River, Hayden Thompson avec une version alternative de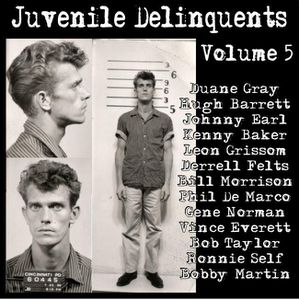 Blues blues blues, Tommy Blake avec aussi une version alt de Shake around, Ray Harris avec Where'd you stay last night, Dick Penner avec Move baby move, mais aussi d'autres artistes comme Al Ferrier avec No baby, Jack Scott avec le medium Midgie, Benny Joy avec I'm gonna move, David Houston ave One and only (de Eddie Fontaine) en live, le groupe sauvage indonesien the Tielman Brothers avec Record hop, Johnny Burnette avec Crazy Legs, Buddy Holly avec Baby won't you come out tonight et le sauvage Love me de The Phantom....
Sur le volume 7 nous trouvons entre autres Jackie Lee Cochran avec le rare Bop town, Sonny West avec Sweet rockin' baby, Jimmy Wages (écurie Sun) avec Take me (Garden of evil), Bobby Fuller avec Rockhouse (de Roy Orbison), Hasil Adkins avec Jenny Lou, Jerry Reed (le chanteur de country de chez Capitol) avec une de ses faces rock You make it, they take it et le rocker anglais Marty Wilde avec Jezebel (rendu célèbre par Gene Vincent)....
Sur le volume 8 nous trouvons entre autres Charlie Feathers avec une version alt de One and loose, Bob luman avec Boston rocker, Jape Richardson (alias The Big Bopper) avec Crazy blues, Lou Josie avec son classique Vacation over, Johnny Dollar avec Lovin' up a storm, Gene Summer avec son décapant Alabama shake, Elvis Presley avec Baby let's play house, Bil Allen avec son génial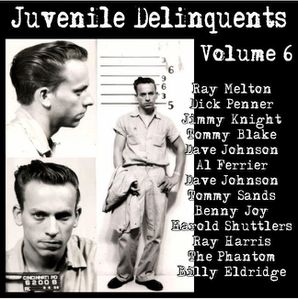 Please give me Something (Imperial) et Billy Zoom avec Say when...
Sur le volume 9 nous trouvons entre autres The Rhythm Rockets avec le sauvage The slide, Kenny Parchman (Sun records) avec Treat me right, Paul Peek (des Blue Caps de Gene Vincent) avec son trés bon rock en solo The Rock around, Al Ferrier avec My baby done gone away, Jett Powers (Futur chanteur Pop PJ Proby) avec son white rock explosif Go girl go, Johnny Burnette and Rock 'n' roll trio avec le génial et classique The train kept a rollin', Buddy Holly avec son splendide Rockin' around with olee vee, Elvis Presley avec Put a blame on me, Jodie Reynolds (créateur de Endless sleep) avec The Fire of love et Johnny Jano avec Oh baby...
Et pour terminer sur le volume 10 nous trouvons entre autres Elvis Presley avec Ain't that loving you baby, the Jiants qui reprennent Tornado de Dale Hawkins, Narvel Felts (Sun) avec Go go go ("Down the line" de Roy Orbison), Glenn Honeycutt avec Rock all night, Johnny Carroll avec Sugar baby (toujours du film Rock baby rock it), Sonny Fisher avec Sneacky pete, Harold Jenkins avec Give me some love en version alt, Glen Glenn avec Blue jeans and Boy shirt, l'incontournable classique de Johnny Powers Long blond hair, Bob Luman avec Guitar Picker, Jimmy Carroll avec son classique Big green car, Buddy Holly avec Dont come back knockin', le rocker anglais
Cliff Richard avec Move it!, Ray Harris (Sun) avec Come on little mama, Larry and the headliners avec la cover du Lotta lovin' de Gene Vincent et Jack Scott avec Go wild little Sadie...
Pour conclure, je n'ai évidement pas cité tout les titres des 8 autres albums, mais c'est une série contenant au total 300 titres mixant avec habileté les artistes connus avec des titres moins connus ou des prises alternatives de leurs classiques à des artistes moins connus mais avec des titres devenu classiques et avec des artistes carrément peu connu. Le résultat est là et plutôt convainquant.