15 mars 2010
1
15
/

03
/

mars
/

2010
22:32
Cowboy Barnes & his Drinkin' Buddies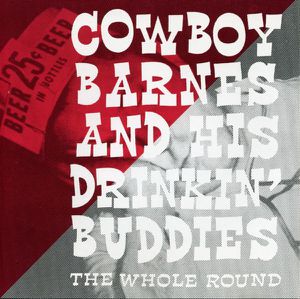 est une formation de Rockabilly sauvage de la seconde moitier des eighties composé de Cowboy Barnes, Boz Boorer, Matt Radford, Liam Watson et Brian Nevill qui se caractérise par un chant trés gravé et déjanté, un son sauvage avec une production roots.
C'est tellement viril sans concessions stylistique et surtout rentre dedans que leurs enregistrements raviront aussi bien des Hepcats que des Teds ou des fans de garage. Ils sortent deux albums pour NV records que je possède sur un seul cd N.V Records (NVCD12) The Whole round.
Nous trouvons donc le lp Big Beer Bonanza complètement déjanté et trés rockabilly rassemblant 12 titres de Rockabilly ou rock n'roll parlant de bitures, d'alcool et de coma éthylique, une pure merveille du délire rock n'roll absolue des années 90's véritable reflet des grands festivals du style de l'époque. Les styles allant du rockabilly en passant par le rock n'roll, le white rock, le rockin blues et le rockin' country, nous trouvons les titres Pink elphants, Wine wine wine, Here i am, drunk again, Save me the label, What's the word - thunderbird, I fought the beer (version hilarante de I fought the law), Beer drinkin' blues, Ain't going to betty Ford, bottle of Jack (version alcoolisée du titre Cracker Jack), Flashin' T et Bad hangover.
Dans le même esprit potache et Rockabilly sauvage nous trouvons le second LP It's your round! avec la même équipe plus Malcolm Chapman et les titres Shortin' beer (fabuleusement sauvage), Rinning drunk (Country déjanté dans l'esprit de Tom Waits), Whisky made me drunk, Bubble trouble, Bubble potion N° 9 (version délirante de Love Potion number 9), I think i drink therefore i am, Suds, Keep on drinking, It's your round, Rubber legs, Drunk et What a way to die.