22 décembre 2009
2
22
/

12
/

décembre
/

2009
12:31
Chess records et ses filiales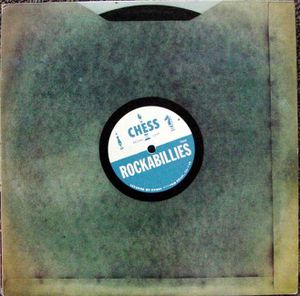 Checker et Argo sont avant tout légendaires pour les fabuleux enregistrements de Blues (le fameux style du Blues de Chicago doit énormément au label Chess et à son patron le visionnaire Léonard Chess) avec des artistes comme Muddy Waters et Howlin' Wolf pour les plus célèbres et de Black Rock n'roll avec Chuck Berry et Bo Diddley.
Le lp Chess Rockabilly (9124213 distribution Phonogram) nous présente les enregistrements de rockabilly réalisés sur Chess, Checker et Argo durant les fifties, il ne sagit pas de titres complètement en marge des réalisations du label, en effet l'énorme vedette blanche du label est Dale Hawkins qui obtiendra un mégatube en 1957 avec Suzy Q qui est une figure marquante du rockabilly des fifties, son style est évidemment plus influencé par le blues que le hillbilly.
Le lp commence par le solide rock n'roll de 1957 Look out Mabel par G. L. Crockett (Checker 1121) on peut noter qu'il enregistra le titre pour Chief (7010) précédemment, comme G. L; Crockett est avant tout un bluesman les influences noires sont trés présentes, Sugaree (Chess 1730) est un classique du rhythm and blues par Hank ballard & Midnnighters la version qu'en fait le chanteur de Country rocker Rusty York est totalement différentes (elle inspirera la reprise en français des 1970's qu'en fit Au Bonheur des Dames avec leur Oh les filles), il enregistre avant Chess pour King , Mercury, Starday et Newstar son style à un son bien plus roots et blanc le titre se classera dans les charts au niveau national en 1959, on peut noter que York l'enregistrera auparavant pour Note (10021) , il interprette également Sweet talk une petite perle qui est une variante de Sweet love on my mind, Jet Tone boogie par The Jet Tones apparait en seconde face du Kansas City par Rocky Olson (Chess 1723) qui est une copie quasi exacte de la superbe version de Wilbert Harrison, ce titre de flip side réalisé par le groupe de Olson s'avère à l'inverse beaucoup plus interressant, Rock yea par Del Saint & the Devils est un solide rock qui sort en 1958 sur le Checker 897, Go go go (Chess 1650) est un classique du médium rockabilly écrit et interprétté par Bobby Sisco, ce dernier est originaire de Hammond dans l'Indiana est enregistre pour Mar-Vel (le label de Harry Glenn) à la fin des 1950's et début 1960's ce titre n'est pas sans rappeller le son de certaines faces Sun records, on trouve également la face B du simple Tall dark handsome man, Vacation's over par Lou Josie qui est un véritable classique du genre qui ne fut pas éditer à l'époque, Lou enregistrera 2 simples pour Argo Why did you leave me (5293) trés bon titre présent aussi sur le lp et Breezin out (5312) en 1958, il connaitra un succés internationnal lorsque avec B Bumble and the stingers dont il est le guitariste ils obtiennent le mégatube Nut rocker, Save it est un rockabilly psychotique et particulièrement fabuleux (repris par les Cramps) de Mel Robbins enregistré à Nashville en 1959 et publié sur Argo (5340), le second titre présent Are you with me ne fut pas publié à l'époque, aprés être passé sur d'autres labels il deviendra l'un des pianistes les plus prisé des sessions de Nashville, All night long enregistré d'abord sur Irma (5112) en 1957 sort ensuite sur Checker (899) en 1958 il est interpretté et écrit par Johnny Fuller un guitariste et chanteur fde Downhome blues reconnu, qui fera au long de sa carrière sur différents label (Aladdin, Money, Flair, Irma, Hollywood, Imperial, Speciality, Ar-Tone, Veltone, Wax, Crazy ...) du blues, du gospel, du Rhythm and blues et du Rock n'roll, Nothin' Shakin' (Argo 5309) est l'un des classiques du rock sauvage ici chanté par son auteur l'italo américain Eddie Fontaine un article est consacré sur ce blog à la carrière fifties de ce dernier donc je ne m'y étend pas ici, Love me de 1955 Chess (4863) est un titre de rockabilly sauvage de Jimmy Lee & Wayne Walker qui sont des habitués du Louisiana Hayride, Walker réalisera de nombreuses faces sur les labels: Star talent, Abc Paramount, Columbia, Coral, Brunswick , Everest & Ric, il deviendra une célébrité en composant de nombreux classiques pour d'autres chanteurs comme Hambone pour Carl Perkins ou Little boy sad pour Johnny Burnette par exemple, nous trouvons de Dale Hawkins Lovin' bug un rockabilly inédit de 1959, Cool off baby (Chess 1662) par Billy "Curley" Barrix est inspiré par le Baby Let's Play House d'Elvis Presley sur Sun, Barrix deviendra Disc Jockey puis animateur TV avant de revenir à la musique comme musicien de country & Western à Nashville en 1971 pour les labels Dunhill et Chaparral, True Love Come my way (Argo 5330) de 1959 par Larry Diamond est dans le style de Gene Vincent and the Blue Caps, The shape you left me in par Gene Simmons ce dernier est surtout célèbre par son gros tube de 1964 Haunted House pour Hi records, on peut également noter les nombreuses et fabuleuses faces de rockabilly qu'il réalise pour Sun records, Roses are blooming est un rockabilly trés original et particulièrement réussi avec un petit côté tex- mex chanté par les Silva-Tones, le titre sortira dans un premier temps sur Monarch (615), avant de resortir à partir du même master sur Argo (5281) en 1957, All right par Russell bridges est enregistré en 1959 à WKY d'Oklaoma city, Russell durant cette pèriode accompagnera Jerry lee Lewis et Ronnie Hawkins lors de concert dans la région de Los Angeles.
.
Mel Robbins - Save it
Rusty York - Sugaree
G Crockett - Look Out Mabel
Lou Josie - Vacation's Over

THE SILVA-TONES - ROSES ARE BLOOMING on Monarch label