14 novembre 2010
7
14
/

11
/

novembre
/

2010
00:23
La Compilation Memphis Rockabilly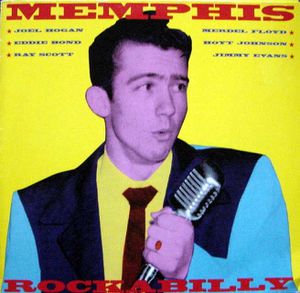 de Ace Records (CH 167) est consacrée à des enregistrement 1950's de rockabilly réalisés dans les studios du label Erwin records ( situés sur Chelsea Avenue à Memphis) dirigé par un ancien musicien professionnel Marshall E. Ellis. C'est devant le succés de Sun avec les simples Rockabilly d'Elvis Presley, que Ellis décide d'enregistrer des artistes dans ce nouveau style musical, nous trouvons sur ce disque The joint's really jumpin de Jimmy Evans (artiste qui fut en 1954 auditionné sans succés par Sam phillips) enregistré en 1955 avec Carl Simmons (le frère de Gene) et le Pianiste Jimmy Wilson (que l'on trouve sur de nombreuses sessions Sun records), et sort sur le label d'Evans Clearmont records. C'est avec le premier simple de Hoyt Johnson (Erwin 555) que Ellis met en boite un véritable chef d'oeuvre du rockabilly avec les titres Enie Meanie Minie Mo / Standing in your window. Nous trouvons aussi l'un des maitres du genre Eddie Bond avec Boo bop da caa caa de 1959 édité sur l'autre label d'Ellis Stompertime records et Here comes that train enregistré en 1965 pour Erwin records. On trouve également Ray Scotts avec son Boppin' wig wam willie (un rockabilly rapîde) qui sort sur Erwin et une version inédite de ce même titre, Ronnie Moore (le bassiste d'Eddie Bond) avec You have this and more titre qui sort sur Stompertime, les Monarchs IV et l'instrumental Weekend qui sort sur Erwin en 1963 et trés inspiré par le style du Bill Blacks Combo, Pat Ferguson une chanteuse de rock n'roll accompagné à la guitare par Scotty Moore (le légendaire guitariste d'Elvis) sur Fool i am qui sort sur Stompertime, Joel Hogan avec Look coming yonder qui est enregistré durant les 1970's et publié sur Unknown records, Hap Perry est son jusque là inédit Got you on my mind, Bobby Garret's et son synamique Short skirts enregistré et publié en 1963 sur E & M records et Juke Box mama par Merdel Ford qui sort sur Erwin records.
Eddie Bond - HERE COMES THAT TRAIN
Jimmy Evans - The Joint's Really Jumpin'
Ronnie Moore ... You Have This And More
Ray Scott - Boppin' Wig Wam Willie
Hoyt Johnson-"Eenie Meenie Minie Mo"
Bobby Garrett - Short Skirts