30 septembre 2010
4
30
/

09
/

septembre
/

2010
22:08
Comme nous l'avons vu dans des articles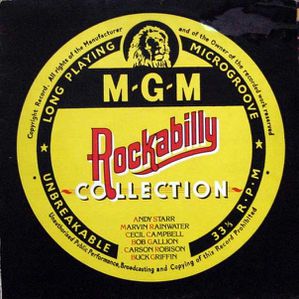 antérieurs les majors voyant l'engouement pour le rockabilly au milieu des 1950's cherche des nouveaux jeunes chanteurs friand de ce nouveau style, ou font enregistré à certaines vedettes country de leur catalogue quelques titres rockabilly. MGM ne déroge pas à cette règle et les deux lps MGM Rockabilly Collection vol 1(M.G.M. Super 2315 394) et MGM Rockabilly Collection Volume 2 (M.GM. Mid price 2354 147) qui sont édité au début des 1980's compilent quelques perles rockabilly du label enregistrées essentiellement en 1956 et 1957.
Le volume 1 permet de découvrir des "stars" du genre comme Andy Starr avec 8 véritables perles rockabilly à la fois rapide agressive et quelques fois hargneuses comme Rockin' Rollin' Stone, I want-a go south, She's a going Jessie, Old deacon Jones, Give me a woman, Round and round, no room for your kind et One more time , Starr discute la vedette avec Buck Griffin' est dans un premier temps un chanteur à succés de hillbilly qui en 1956 se tourne vers le rockabilly pour notre plus grand plaisir avec Sutterin' papa, Watchin' the 7.10 Roll by, Bow my back, Old Bee Tree, You'll never come back et Jessie Lee, nous trouvons deux titres de Marvin Rainwater (dont un article est consacré sur ce blog) avec le fabuleux Mr blues et My brand of blues, Cecil Campbell est un artiste de country and western qui réalise de trés bonnes faces de rockabilly comme Dixieland rock et Rock and roll fever auquel s'ajoute Carlon Robison un chanteur de hillbilly qui ici signe un solide rockabilly Rockin' and rollin' whith granmaw et Bob Gallion avec son classique rock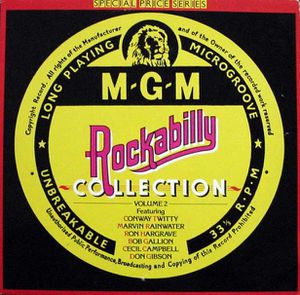 My square dancin' mama (She done learned to rock n'roll).
Ce volume est tellement réussi que l'on peut se demander si la magie va être aussi forte sur le volume 2 et bien oui!!!!
Il faut dire qu'ils n'y vont pas de main morte avec d'autres perles de Marvin Rainwater comme Gamblin' man, Hot 'n' cold, I dig you baby, She's gone, Dance me daddy et Why did you have to go leave me?, nous retrouvons aussi Bob Gallion avec Baby love me et Cecil Campbell avec The Rockin' guitar, nous trouvons également le titre le plus rockabilly de Conway Twitty Long black train (dans le style des faces Sun d'Elvis Presley), cela complété par des titres à la fois rares et irréprochables comme Drive in movie et Latch on de Ron Hargrave, Country cattin' de Jimmy Swan, Travelin' blues boy de Gary williams, Midnight line de Bob Riley, Long gone lonesome blues (cover de Hank Williams) par Jimmie Newsome, Rootie tootie des Berry Kids et Rollin' the Boogie, enfin deux titres rockabilly de deux monuments de la musique country I ain't a studyin' you, baby de Don Gibson et Who shot Willie? de Arthur Smith (le céateur de l'instrumental Guitar boogie)
Andy Starr - I want a go south
.
Andy Starr - Rockin' rollin' stone
.
Buck Griffin - Jessie Lee
Conway Twitty - Long black train
Marvin Rainwatter - Mr Blues
Andy Starr - One more time
Cecil Campbell - Rock and roll fever
BOB GALLION My Square Dancin' Mama
(She's Done Learned to Rock and Roll)
Buck Griffin - Stutterin' Papa
Ron Hargrave - Latch On
Berry Kids - Rootie Tootie
Dick Hyman - Rollin' the boogie
Arthur Smith - Who shot Willie?