7 juillet 2010
3
07
/

07
/

juillet
/

2010
22:26
The Chevy Cats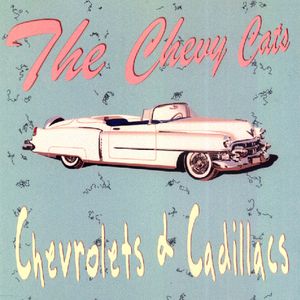 est une des formations incontournable de la scène rockabilly de l'Europe Occidentale. Ce trio originaire des Pays Bas formé par
Paul à la contrebasse, Hans à la batterie et au chant et Frans à la guitare et au chant. Leurs style était directement influencé par le son des fifties d'artistes comme Johnny Burnette rock n'roll trio, Carl Perkins et le trio d'Elvis Presley chez Sun. Ils se firent une incroyable répputation de groupe en live avec des participations particulièrement remarquées dans de nombreux festivals.
Mais au niveau des enregistrements cela est assez maigre si ce n'est en 1986 un 45 tours avec Don't look back (Andy griffith) et Please don't leave me (Cover du Burnette rock n'roll trio) et un 25 cm de 5 titres contenant Lonesome train et Tear it up toujours du Burnette rock n'roll trio et Jumprope boogie (Cliffie Stone), Can't find the doorknob (Jimmy & Johnny) et Why oh why (The Cues).

Ces enregistrements de rockabilly authentique d'une trés grande qualité artistique sont aujourd'hui de véritables collectors trés rares et cher.
Heureusement un CD album Chevrolets & Cadillacs qui sort sur Wildcat (WCD003) compile ces enregistrements associée à un live légendaire qu'ils réalisent en 1987 dans un show radio trés populaire en direct le
Live at the Countdown Cafe
qui contient d'autres excellents titres du groupe
Boppin' the blues
(Carl Perkins),
Lonesome train
(Johnny Burnette rock n'roll trio)
, Rockin' rollin' stone
(Andy Starr),
Jumpope boogie
(Cliffie Stone),
Mambo rock
(Bill Haley),
I like it
(Sid King & the 5 Strings) et
Tear it up
(Johnny burnette rock n'roll trio)
.
Ces enregistrements live sont également particulièrements fabuleux et tout particulièrement la cover d'Andy Starr.
Enfin ce cd ajoute des titres inédits comme Sittin' on top of the world (Curtis Gordon / Bob Wills), Right String baby, But the wrong yo yo (Carl Perkins), Little Red wagon (Sonny Fisher), Cathy Dear (J C Cole) et Cold as ice (Frankie Brent le bassiste de Freddie Bell).A noter sur ces titres un son roots absolument fabuleux.
Le trio se séparre ensuite mais en 2007 ils se reforment, espèrons qu'ils enregistrent de nouveau d'aussi bons titres.