7 juillet 2010
3
07
/

07
/

juillet
/

2010
16:35
The Bricats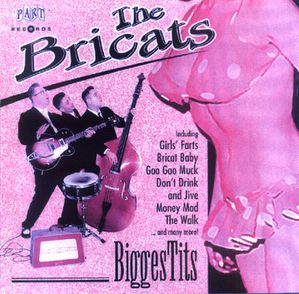 est un trio allemand de jump and jive qui se forme au début des années 1990's avec Günter Öller (guitare et chant) Herbert Öller (contrebasse et chant) et Neven Klacic (Batterie et chant). Dés le début de leur formation ils font des concerts dans american 50's diner et de fêtes. Leur style fait un cocktail détonant et particulièrement brillant de rhythm and blues, Jive et rockabilly ils appellent eux même leur style du Swing o billy.
On peut noter non seulement la qualité indéniable des compositions du groupe et de l'instrumentation, mais également les vocaux doo wop d'une maitrise parfaites. En 1998 ils enregistrent un EP suivi en 1999 d'un album Biggestits sur Part records (PARK-CD 628.002).
Et en 2002 ils enregistrent un second album Welcome to Bricatannia. mais sans Neven qui les quitte en 2001 remplacé par Toby Grill.
L'album Biggestist contient de trés bonnes compositions dont Girls'farst ("les Pets des filles" qui témoigne d'un humour potache), de même que Don't drink and jive, B.R.IC.A.T. Boogie, My baby, Bricat baby, Bricat love, When i look into your eyes et Redlight. Les covers présentes sont parfaitement adapté au style personnel du groupe comme The walk (Jimmy McCracklin), You're sixteen (Johnny Burnette), The chicken and the bop (lloyd Price), Googoo munk (The Cramps), Tired and Sleepy (the Cochran brothers), Don't be angry (Nappy Brown), Jump, jive an' wail (Louis Prima), Think it over (Buddy holly) et Easy (de Lionel Ritchie si si!!!)
Ce cd est une véritable réussite en faisant un concentré de bonne humeur et de rock n'roll