8 juillet 2010
4
08
/

07
/

juillet
/

2010
22:28
The Stargazers est la première formation de l'histoire à jouer du Swing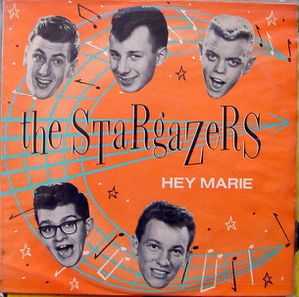 -jive revival, à une pèriode ou la Grande Bretagne danse au son du Rockabilly des Crazy Cavan & the Rythm Rockers ou du Rock n' roll de Shakin' Stevens and the Sunsets. Le groupe est formé de Ricky Lee Brawn, Peter Davenport, Anders Janes, John wallace, Marc Breman et Danny Britain.
Leurs influences sont aussi bien les pionniers du rock n'roll du jump rock comme Bill Haley and the Comets et Freddie Bell & the Bell Boys que des grands noms du jazz Django Reinhardt et Charlie Christian,du Rhythm and blues des 1940's comme Louis Jordan et des artistes crooner jump comme Louis Prima.
Le groupe, par son style unique à l'époque se fait rapidement remarqué par Muff Winwood (membre fondateur du Spencer Davis Group) qui est producteur pour CBS et Epic records. On lui doit aussi la découverte d'autres talents comme Dire straits, Sparks, Shakin' Stevens et Paul Young.
Le premier disque que sort le groupe est un simple qui contient une composition du guitariste Pete Davenport Groove baby groove qui se vend à 36 000 exemplaires en 2 semaines. La promotion de ce simple sera faite par un trés beau clip tourné au Royalty (un pretigieux théatre de Londres). Il est suivi d'un second simple contenant une cover de Hey Marie de Louis Prima. Julian Temple qui réalise le film Great rock n'roll swindle des Sex Pistols, fait jouer les Stargazers dans le légendaire haut lieu du skiffle durant les 1950's le 2 i's Club de Soho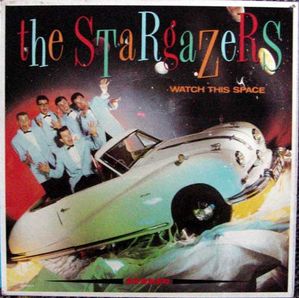 à Londres pour son film Absolute Beginners. Devant cette nouvelle notoriété le groupe part en tournée avec des vedettes comme Shakin' Stevens ou Elton John. La même année sort Watch this space leur génial premier album, Ce n'est qu'au début 1990's que sort leur second album officiel.
Au niveau des disques.on peut parler du 25 cm 45 tours Epic (APC A 13 2422) contenant Hey Marie leur second tube (cover de Louis Prima) et deux autres titres Scat the Riff (une composition originale de John Wallace) et Go go honey (une composition de Pete Davenport ) au design fabuleusement vintage.
Il faut également parler du fabuleux lp 33 tours Watch this space Epic (EPC 25053) de 1982 contenant tout leurs premiers enregistrements tous d'une trés grande qualité contenant de nombreuses compositions originales Groove baby groove (Composition de John Davenport), Marcella mania (composition de John Wallace), Swingin' Aye et Follow your heart ( compositions originales de Danny britain), Pretty Senorita, Spin that 45, et Rocketship to the moon (de Anders Janes). et des covers Tossin' and Turnin' (de Bobby Lewis), Hey Marie (de Louis Prima), Walking the chalk line (de Tiny Bradshow), Hey there you (Freddie Bell), Perdido /Caravan (Duke Elington), Ain't nobody here but us Chickens (Louis Jordan) et True love (de Cole Porter).
On peut également ajouter le rare lp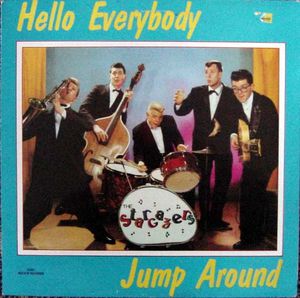 Hello Everybody Jump around (Rockin records 22001) qui est considérré comme un pirate contenant des titres lives et étonnement studios enregistré entre 1981 et 1983. Soit 5 titres studios de 1981 (soit antèrieurs à leur premier simple officiel!!) I Got a baby, Better believe it, LA Rock 'n' roll, Red light, green light et Jump around, 5 titres studios de 1982 soit Tonite's the night, swingin' aye , Caravan, A little Jump et Scat the riff associés à 4 titres live de 1982 Teach you to rock/ American patrol / Hey there you, Ain't nobody here but us chickens, Rocketship to the moon, Ho ho ho et 2 titres live de 1983 Sain'ts rock n'roll et See your later alligator.