10 janvier 2010
7
10
/

01
/

janvier
/

2010
18:01
Rebels Revenge est une formation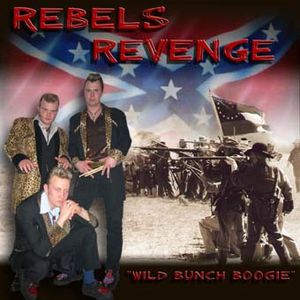 de Teddy boy Rockabilly et Rock n'roll novergienne, qui commence en 1997 avec cinq copains d'écoles fan de rockabilly Jan Ove Undem (leadeur vocal), Kristine Einbu (basse), Cato Ramfelt (Piano), Alf Lund Godbolt (batterie) and Håkon Samland (Guitare) qui s'appelle the "Teenwaves".
Leurs influences sont le rock des fifties et évidemment leurs compatriotes Les Teencats.
Par la suite les membres du groupes change, le groupe changent de nom en 1999 pour les Money Makers avec
Håkon Samland (guitare solo), John Sindre Lynghaug (Basse), Jan Ove Undem (chant), Alfie Hansen (guitare rythmique) et Eivind Siljeholm (batterie) leur répertoire est un mix de Rock n'roll fin 1950's (Chuck berry, Eddie Cochran, Buddy Holly, Jerry Lee Lewis...)et de Teddy boy rock n'roll et rckabilly comme Crazy Cavan & the rhythm rockers ou Riot Rockers, mais leur grosse influence est toujours The Teenkats.
.En 2000 le guitariste Håkon remplace Jan Ove Undem comme chanteur
C'est en 2002 que Håkon et John Sindre décide de fonder un nouveau groupe dans un style exclusivement Teddy Boy rock n'roll Anglais.
C'est comme cela que nait Rebels revenge avec Håkon Samland (chant et guitare), John-Sindre Lynghaug (chant et basse), Joakim Høyland (Guitare) and Magnus Nilsen (batteries), Ils sortent un premier album cd en 2002 Rebel's revenge (contenant 9 compositions et une reprise).
En 2004 Roger Kristiansen (ancien membre des Wild Dogs) devient le batteur et Rudi Jackobsen remplace Joakim Høyland à la guitare rythmique.
En Avril sort le second CD du groupe Wild Bunch Boogie sort en Avril 2004 sur un label suédois Old rock records, c'est ce dernier que je possède. Il se compose de 15 trés bonnes compositions dans un style totalement teddy boys qui doit aussi bien au Teenkats qu'à Tom Powder avec une personnalité et un style vraiment bien à eux.
En effet on ne sent plus vraiment le style du teddy boys rockabilly des 1970's et 1980's de leur début mais un renouveau du style comme les Teenkats ou les Black Knights l'ont fait avant eux. Les titres de cet album sont That's rock n'roll, Were going down, Bad teddy boy, True marie, Angelina, Little Miss Behaven, Hey Mr. John, Leave your anyway, Dear Marie, Teddyboy, Hula baby rockin', Town hall party, Rock n'roll is kind of music, Love for me love for you et Wild bunch boogie.
Rebels Revenge-Fly on the wall
REBELS REVENGE-ROCK´N ROLL IS KING

REBELS REVENGE - that's rock 'n' roll