10 janvier 2010
7
10
/

01
/

janvier
/

2010
17:09
Le lp Original Nashville rock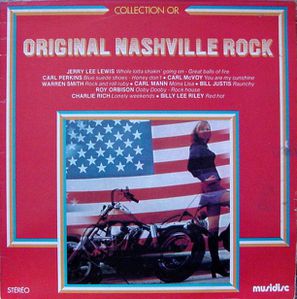 de Musidisc du début des années 1970 (30 CO 1377) est une compilation de quelques un des meilleurs rockabilly et rock n'roll de chez Sun Records. Ce qui est amusant de remarquer c'est que Sun records est un mabel de Memphis et non de Nashville, donc le disque aurait du s'appeller Original Memphis rock!!!
Nous trouvons les deux premiers énormes tubes de Jerry Lee lewis Whole lotta shakin' going on et Great balls of fire, de Carl Perkins le maxi tube Blue suede shoes et son autre petit chef d'oeuvre Honey don't, pour Roy Orbison les incontournables rocks sauvages Rockhouse et Ooby dooby, tout aussi sauvage nous avons aussi le Red Hot de Billy Lee Riley, Charlie Rich est présent avec son medium rock Lonely weekends comme Carl Mann avec sa reprise rock de Mona lisa, Warren Smith interprette étonement un titre de Johnny Cash Rock n' roll ruby (à la place d'un de ses inombrables classiques du rockabilly!!) enfin deux artistes moins connus Carl Mc Voy avec sa version de You are my sunshine (dont Gene Vincent fit aussi une fabuleuse version) et Bill Justis avec l'instrumental western Raunchy.
Ce disque est important historiquement il est probablement la première compilation de rockabilly française.


Jerry Lee Lewis - Great Balls of Fire


CARL PERKINS - 'Blue Suede Shoes' - 78rpm 1956
Roy Orbison - Rock House, 78rpm, SUN
Bill Justis - Raunchy & The Midnight Man 78 rpm!
Carl Mann - Mona Lisa

WARREN SMITH - ROCK 'N' ROLL RUBY SUN #239 78 RPM