5 juin 2009
5
05
/

06
/

juin
/

2009
15:18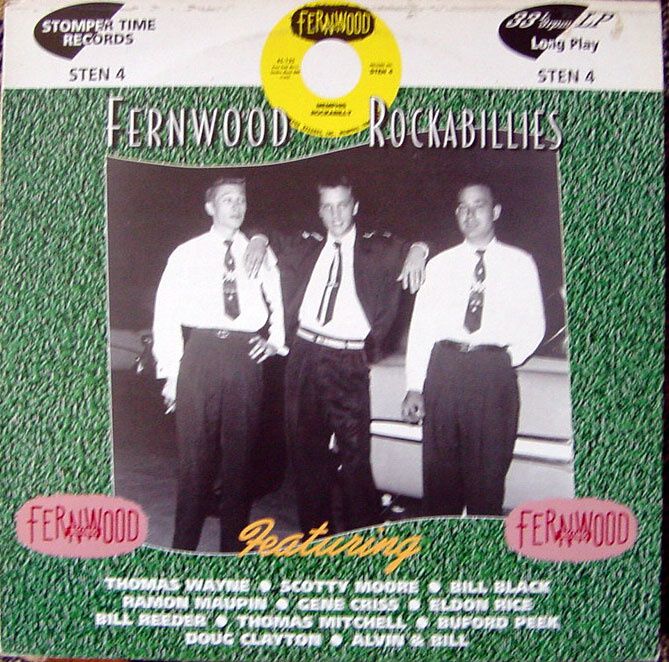 C'est avec le succés grandissant des disques sortant des studios Sun en 1956, que le bassite de hillbilly Ronald 'slim' Wallace (du groupe les Slim Wallace's Dixie Ramblers, décide de produire avec l'aide de Jack Clement (le futur collaborateur de Sam Phillips chez Sun records) le premier disque de Fernwood records Love Gone / No chance par Ramon Maupin (qui n'est autre que le chanteur de l'ancienne formation de Slim) ce premier disque est encore bien influencé par le hillbilly, mais son suivant What's the use / Rockin' rufus est un trés bon single de Rockabilly. Jack Clement quitte Fernwood pour Sun, tandis que Scotty Moore le guitariste d'Elvis Presley quitte ce dernier pour devenir vice président de Fernwood, suivit aprés du contrebassiste Bill Black les deux compères sortiront leur simple instrumental Have guitar will Travel. Slim aidé de Scotty produit alors de nombreux singles de rock n'roll et rockabilly non seulement sur Fernwood, mais aussi sur d'autres filliales comme Pur Gold, el Rio, Whirl and Way, et Mid South. On peut citer entre autres les enregistrements I'm a wise old cat par Thomas Mitchell et Hep cat baby par Gene Criss. Le maxi tube du label ils l'obtiendront avec la ballade Tragedy interprétté par Thomas Wayne qui se vendit à plus de 6 000 000 exemplaires!!!
Thomas Wayne sera aussi l'interprette d'un rockabilly killer splendide You're the one that done it. Slim de son côté continuera à produire des 45 tours jusqu'en 1966.
Pour se faire une idée des enregistrements rockabilly du label, il faut se procurer le 25 cm Fernwood Rockabillies Stomper STEN 4 contenant 12 titres du label: You're the one that done it par Thomas Wayne, I'm a wise old cat par Thomas Mitchell, No chance, What's the use et rockin' rufus par Ramon Maupin, Don't let love breack your heart par Eldon Rice, Saturday night twist par Doug Clayton, Hep cat baby par Gene Criss, typing jive par Alvin & Bill & the invictors, you're my baby par Bill Reeder, Have guitar will Travel du Scotty Moore Trio et Knock down, drag out par Buford Peek avec le groupe de Jimmy Haggett's .
Ramon Maupin on Fernwood - 78 - No Chance
Thomas Wayne That the one that done it
Doug Clayton - Saturday Night Twist

Gene Criss - Hep Cat Baby