22 mars 2011
2
22
/

03
/

mars
/

2011
22:15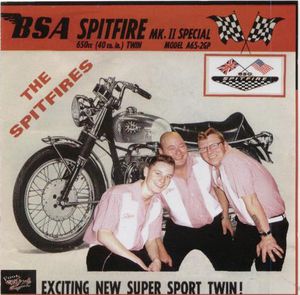 The Spitfires est un trio de rock n'roll et rockabilly anglais qui emprunte son nom à un modèle légendaire de moto anglaise la BSA MK2 Spitfires Special 650 CC, véritable référence à tout Ton up boys qui se respecte.
En 2005, ils mettent en boite un album pour le label Foot Tapping records (FT037), leur rock n'roll se caractérise par un style efficace à la sonorité très anglaise différente du style teddy boys, se rapprochant plutôt des groupes de rock n'roll britanniques des années 1990's comme The Sureshots, Darrell Highman ou the Skip Rats tout en ayant un style musical personnel et reconnaissable. L'une des caractéristique est la voix juvénile du contrebassiste et chanteur leadeur qui donnent beaucoup d'originalité au nombreuses covers de l'album comme Rag Mop, Teenage Boogie (Webb Pierce), Red Hot (Billy Lee Riley), I'm ready et Tired 'n' Sleepy (Eddie Cochran), Red Cadillac & black mustache (Bob Luman – Warren Smith) Bop a Lena (Ronnie Self) et Rock around the island.
Mais c'est à mon avis leurs compositions originales qui méritent le détour voir l'achat de cet album en effet leurs 4 néo rockabilly Roll on, Wow wow baby, Hay hay baby et Clairy dairy sont de véritables petits classiques du genre aux mélodies créatives et entrainantes.
THE SPITFIRES filmed live by DD'S NORFOLK FILM PRODUCTIONS 2008
THE SPITFIRES - Rag mop