8 juin 2011
3
08
/

06
/

juin
/

2011
23:46
The Bopshack Stompers est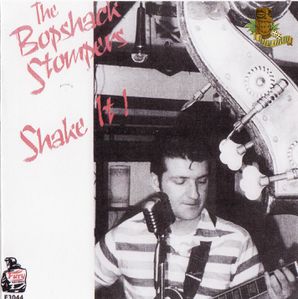 une formation londonienne de Rockin' blues et rockabilly formée par Craig Shaw (chant et guitare rythmique) , Adam Wakefield (Contrebasse), Malcolm Chapman (guitare solo) et Roger Van Niekerk (batterie) qui en 1996 enregistre un album pour le label Fury records Shake it!
Cet album est une assez belle réussite associant avec talent le son typique du rockabilly anglais des 1990's avec le rockin' blues et le country blues. Il commence par Shake it un excellent rockin' blues dans le style de Johnny Kidd and the Pirates, suivi par les titres 50 Miles (From Judgement Day) un rockabilly authentique assez speed associant des snorités bluesy, Wild Cherry est un country blues bien roots recevant une énergie rock n'rollienne, Rock Bop est un rockabilly rapide dont le style rappelle les groupes teddy boys des années 1970's et début 1980's, Now You've Done It est une rockabilly rapide plutôt authentique et assez déjanté, Dangerous Blonde est un néo rockabilly à la mélodie originale, Kitty Rocks The Cradle est un fabuleux rockabilly rapide et amusant, Poor boy est un rockabilly medium, Why Do You Do Me est un rockin' blues et Call Of The Wind est un néo rockabilly medium. En résumé un bon album de rockabilly au style reconnaissable mais assez variées allant du rockabilly authentique vers le Rockin' blues en passant par le néo rockabilly.
The Bop Shack Stompers - Shake it!
The BopShack Stompers - Kitty Rocks The Cradle
The BopShack Stompers - Dangerous Blonde