2 juillet 2010
5
02
/

07
/

juillet
/

2010
09:26
C'est en 1989 que sort en salle Great Balls of Fire un film sur la vie de Jerry Lee Lewis,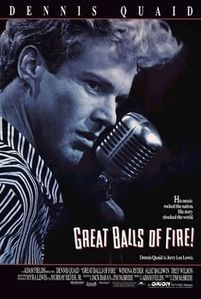 basant son scénario sur la biographie écrite par la première femme du chanteur Myra Lewis et Murray M. Sylver JR.
L'histoire se déroule au début de la carrière du "Killer" entre le moment ou il signe chez Sun records, qu'il devient trés rapidement l'un des grands noms du rock et son mariage avec sa jeune cousine de 13 ans Myra, qui fait un scandal et fait plonger l'immense popularité de Jerry Lee à la fin de la décénnie.
Ce film traite avec beaucoup d'humour, les portraits de Sam Phillips (responsable et créateur des studios Sun records, ou le cousin précheur de Jerry Lee Jimmy Swaggart sont présenté avec beaucoup d'humour.
Les acteurs sont tous excellent on peut noter Dennis Quaid en Jerry Lee Lewis, Winona Ridder en Myra Lee Brown, Alec Baldwin en Jimmy Swaggart, Mojo Nixon est James Van Eaton, Jimmie Vaughan est roland James, David R Ferguson est Rusty Brown. La réalisation et le montage sont irréprochableen jouant sur la rapidité et le mouvement par des changements de plans rapides, on peut noter des passages musicaux de toute beauté. Pour l'occasion Jerry Lee réenregistre pour le film les titres Great Balls Of Fire," "Whole Lotta Shakin' Goin' On" et "That Lucky Old Sun."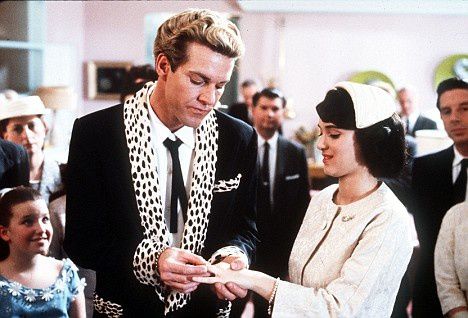 Jerry Lee Lewis ( Dennis Quaid)se marriant avec Myra lee (Winona Ridder )