20 juillet 2012
5
20
/

07
/

juillet
/

2012
23:20
Alis Lesley est une chanteuse de rockabilly d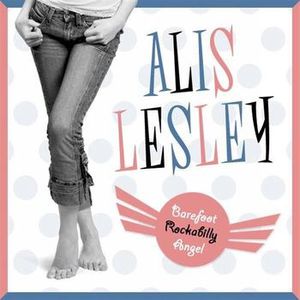 es fifties né à Chicago en 1938, qui chante dans le style de Janis Martin, mais qui n'a pas eut la chance d'avoir une bonne promotion à l'époque,
Safamille déménage durant son enfance pour Phoenix (Arizona), lorsqu'elle est encore étudiante elle chante du rockabilly et est découverte par Kathryn Godfrey (une vedette de la télévision de Phoenix) elle permet à Alis de faire des passages sur KTVK Télévision qui lui donne une popularité locale et lui permet de se produire dans des clubs locaux.
En 1957 elle obtient un petit succés national avec son simple Era "He Will Come Back to Me" /"Heartbreak Harry" (Era Records 45-1034) et part en Octobre en tournée Australienne aux côté de Little richard, Gene Vincent, et le rocker Australien Johnny OKeefe.
Je connais Alis Lesley comme beaucoup grâce à la compilation Ace Records Hollywood Rock 'n' roll. Mais c'est grâce à un blogspot Internet que je suis tombé sur ce mini album de 2008 Barefoot Rockabilly Angel qui compile 5 titres de 1957.
Nous trouvons He Will Come Back To Me un superbe rockabilly avec choeurs masculins un veritable classique du rockab feminine des fifties, Heartbreak Harry est un rock 'n' roll jump rapide dans le style de Jo Ann Campbell, Why Do I Feel This Way est un véritable chef d'œuvre sorte de ballade rockabilly avec une très bonne mélodie, So Afraid est un jump rock assez bien fait dont on peut noter les riffs de guitare subtils et Don't Burn Your Bridges est une ballade variété avec steel guitar assez décevante au regard des autres titres de ce mini album.
Voilà un petit album qui nous permet de découvrir un peu plus sur cette chanteuse méconnu des 1950's.