22 mars 2010
1
22
/

03
/

mars
/

2010
22:04
Johnny Kidd & The Pirates est le groupe de Rock n'roll britanique qui fait l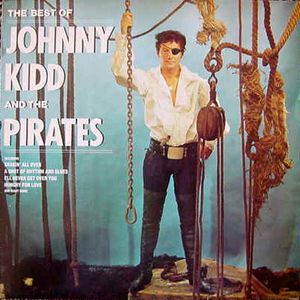 a transition entre le rock n'roll des Fifties de Chanteurs comme Tommy Steele, Terry Dene ou Cliff Richard qui s'inspirent tout en l'adaptant la musique des Rockers américains, vers celui des groupes qui révolutionnent la musique au milieu des sixties comme les Beatles, les Rolling Stones ou les Who.
Johnny Kidd (de son vrais nom Frederick Heath) est né à Willesden en Angleterre en 1935. Comme de trés nombreux rockers il commence dans les fifties en faisant du skiffle, mais doucement il commence à intégrer de plus en plus dans ses formations suivantes des titres de rhythm and blues.
Kidd forment ses premiers Pirates, on y trouve Clem Cattini à la batterie, Alan Caddy à la guitare et Brian Greg à la basse et enregistre pour Hmv sous la houlette de Walter J.Radley le premier et génial premier simple Please don't touch /Growl en Mai 1959, Please don't touch est en effet un rock efficace et sans compromission au teen rock (style qui commense déjas à séduire certains rockers britaniques) qui se caractérise par sa rythmique hypnotique et l'écho sur la voix de Johnny, le résultat est réellement époustouflant dans la lignée du Brand new cadillac de Vince Taylor.
Ce classique du rock n'roll devient un tube en Grande Bretagne se classant à la 25 eme place des charts britaniques.
Ce single est suivi en fin d'année par un second If You Were the Only Girl in the World / Feelin (1959).
Début 1960 parait son troisième simple You Got What It Takes / Longin' Lips, sans véritable succés notable mais c'est surtout grâce à son quatrième simple de Juin 1960 qu'il rentre dans l'histoire de la musique Shakin' All Over / Yes Sir, That's My Baby.
Le titre devient n°1 dés Aout 1960, il se caractérise par son intro et son solo de guitare qui sont des modèles du genre réalisés par Joe Moretti (dont certains plan se retrouve dans Restless qui est couplé à Magic of Love sur le cinquième simple du groupe de Septembre 1960, le fameux effet de slide guitare est réalisé par le glissement sur les cordes de la guitare du briquet de Brian Gregg par Moretti.
Shakin' all over est avec Move it de Cliff Richard le second meilleur single de rock classique britannique pour les critiques rock Roy Carr et Tony Tyler.
En 1961 parait deux autres simples de solides rocks Linda Lu / Let's Talk About Us en Mars 1961 et Please Don't Bring Me Down / So What en Septembre. So what avec son trés bon solo de piano de Thunderclap Jones fait un petit hit, mais surtout devient le troisième classique de Johnny Kidd. On peut noter également des tournée de Johnny et son groupe avec Gene Vincent et Vince Taylor. Mais à la fin de l'année les membres des Pirates Clem Cattini, Alan Caddy et Brian Gregg rejoignent le groupe instrumental the Tornadoes de Joe Meek.
Cela n'empêche pas Johnny Kidd de sortir en Janvier 1962 le simple Hurry On Back To Love / I Want That qui est enregistré en solo avec des musiciens et un son plus lourd.
Même si ce simple possède de réelle qualité Johnny recherche ses nouveaux Pirates, et il recrute Johnny Spence originaire de Birmingham (Varwickshire), Franck Farley à la batterie (originaire Belgaum (en Inde) et Johnny Patto à la guitare qui est rapidement remplacé par Mick Green, Johnny & ses nouveaux Pirates partent en tournée avec Jerry Lee Lewis. En Novembre les nouveaux Pirates mettent en boite leur premier simple avec A Shot of Rhythm and Blues / I Can Tell qui rentre dans les charts britaniques, le style a évolué et se rapproche du rhythm and blues,
C'est à peu prés à cette pèriode que le groupe adopte le costume des pirates du 19 eme siècle sur scène.
L'écoute des titres suivant met en évidence l'influence de Johnny Kidd sur des formations qui vont exploser durant la décennie. On peut noter deux hit en 1963 avec I'll Never Get Over You et Hungry For Love, et des tournées l'année suivantes avec The Rolling Stones, The Ronnettes et Manfred Mann. En 1965 Johnny réenregistre Shakin' all over, et décède l'année suivante dans un accident d'auto de retour d'un concert, son dernier simple The Fool / Send For That Girl sort à titre posthume.
L'album The Best of Johnny Kidd and the Pirates (Emi - EMS 1120 Mono), compile intelligement les titres enregidtrés par le groupe entre 1959 et 1964 soit de 1959 Please don't touch et Growl, de 1960 Shakin' all over, Longing lips, Restless et You've got what it takes, de 1961 Linda lu, de 1962 I want that, I can tell et A shot of rhythm and blues, de 1963 I'll never get over you et Hungry for love et de 1964 Your cheatin' heart, Jealous girl, Shop around et Always and ever.


Johnny Kidd & Pirates Shakin all Over


Johnny Kidd & The Pirates - Please Don`t Touch


Johnny Kidd and the pirates ( a shot of rhythm n blues )


johnny kidd & the pirates - restless


Johnny Kidd & The Pirates - You Got What It Takes + Longin' Lips - 1960 45rpm


johnny kidd & the pirates - linda lu