23 janvier 2010
6
23
/

01
/

janvier
/

2010
01:07
Chuck Berry enregistre le live From St Louie to Frisco (Mercury 134.082 MCY) l'année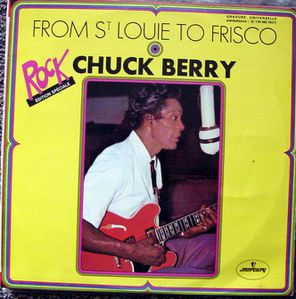 suivante de son précédent Live at Fillmore soit en 1968, ce dernier est de la même trempe, soit du rock noir et du blues avec tout le charme et le génie du style unique de Chuck Berry. Mais à la différence du live at fillmore dans son St Louie to Frisco nous ne trouvons que des compositions de Chuck sonnant plus Blues rock n'roll que rock n'roll pur, on peut aussi noter que les arrangements sont aussi l'oeuvre de Chuck Berry.
Soit les titres Louie to Frisco, Ma dear, The love i lost, I love her, i love her, Little fox, Rock cradle rock, Soul rockin', I can't believe, Misery, My tamborine, Oh captain et Mum's the world.
Un magnifique live Blues rock n''roll absolument envoutant.