12 mai 2010
3
12
/

05
/

mai
/

2010
08:17
Eva Eastwood de son vrais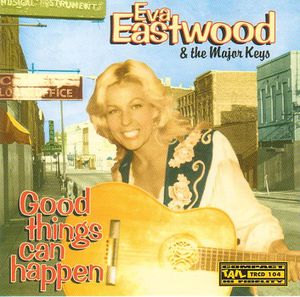 nom Eva Öslund est la meilleur représentante suédoise du rock n'roll et rockabilly. Non seulement elle est une trés bonne chanteuse mais surtout une formidable compositrice. En plus d'être talentueuse elle est artistiquement particulièrement féconde.Son groupe the Major Keys se compose de Frank Snow (Piano), Jyrki Juvonen (guitare), Per Mattson (batterie) et Jan Östlund (basse).
En 1999 pour Tail records elle enregistre l'album Good things can happen (TRCD 104)composé de 12 compositions originale d'Eva qui s'essaye dés ce premier album dans plusieurs style, Someone to love (médium rock), Don't know what you're missing (Country rock), Down the hall (white rock avec piano boogie woogie avec choeurs), Sweetest daddy (hillbilly rock), Loving you is all i wanna do (médium style fin 1950's avec sonorités western swing), If it was up to me (ballade pop rocker avec piano exercice de style trés rare dans les groupes de revivals), I do (Solide Rock dans le style des premiers rock sixties d'Elvis Presley), Took my baby walking (ballade hillbilly), Boombox (White rock sauvage), 8 months long (un médium rhythm and blues), You should have asked me (une rock n'roll dans le style de ceux de Ricky Nelson avec James Burton) et Best beneath the sun ( Une ballade rock and Jazzy dans l'esprit des plus grande du genre).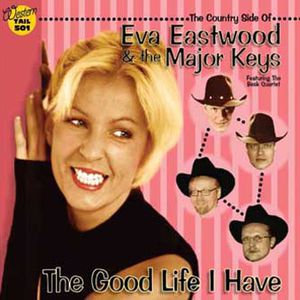 A l'issue de l'écoute de ce premier album on se demande comment une seule personne peut exceller à ce point dans la composition et l'interprétation de genres aussi variés mais toujours en restant Rock n'roll, en effet les 12 titres sont irréprochable, parfait et aurait pu devenir des tubes durant les fifties, chapeau bas.
En 2001 elle revient en studio toujours pour Tail records (dans la série Western tail) pour l'album The good life i have (Western tail 501) comme dans l'album précédent les 16 titres sont des compositions originales d'Eva tous dans un style country rock absolument parfait qui fairait regrétter le fait qu'il n'y ai pas plus de suédois aux USA pour faire de la country. Les titres sont The Good life i have, High for the P.T, A reminder of you, Goodbye city, A world of our own, Our love is true (titre qui s'avère être un trés bon rock n'roll), A millionnaire of the simple things, The Chase, Grandaddyo', How Keith Calloway died (superbe ballade western), King for a day, Good times to come (hillbilly rock en duo avec Johan Blohm), Highway 65, Who put the good in goodbye (Medium Rockabilly dans le style de Johnny Horton), Big brother et First kiss (Ballade fabuleuse entre Teen rock fin fifties et country). Ici en plus de composer des titres ayant chacun une mélodie parfaite elle réussie à s'approprier un grand nombre de style de la country transcendant même un genre qui bien souvent se rapproche plus du pop rock ou la variété.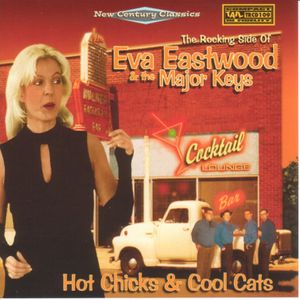 Cet album est tellement réussi qu'on peut le conseillé à tout amateur de rock n'roll ou de musique même s'il n'est pas (un peu comme moi) particulièrement fan de country music.
En 2001 toujour elle enregistre un autre album sur Tail records Hot chicks & Coll Cats (TRCD 100) ce dernier est 100 % rock n'roll et contenant 16 compositions originales d'Eva, Diggin' the street (un rockabilly proche des Collin's Kids), 602 91 (rockabilly dans le style de Johnny Horton), Wendy's Wedding (médium rock style fin 1950's avec vocaux genre Jordanaires un pur classique), Dome like you dome (un black rock n'roll fabuleux), Mama ain't coming back (un médium rockabilly), That's mistake ( Beau rock fin fifties dans le style des meilleurs titres de Jo Ann Campbell ou Connie Francis), Love my baby (médium rockabilly), One feet away (une ballade rock n'roll dans le style fin fifties), Buddy i got you (un rockabilly rapide dans le style de Wanda Jackson), Hot chics and cool cats (un rock n'roll proche du style de Janis Martin), Bumper to bumper (solide rockabilly), In trouble Deep (Teen Rock ), Hoppin' honey (médium rock fin fifties avec mélodie à la Bill Haley), Anywhere the wind blows (White rock dans le style de Sanford Clark), Everybody's gone & done it (un rockabilly sauvage) et I might be gone (une médium rock).
Aprés l'écoute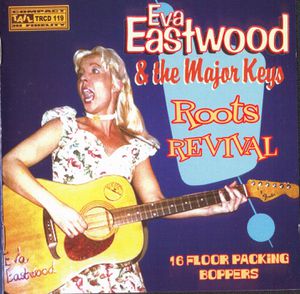 de cet album on est encore surpris des talents de compositions d'Eva qui a su ici assimiler des styles trés différents qui font pourtant toute la variété de ce genre musicale tout en faisant un album vocalement et musicalement trés personnel.
En 2003 toujours pour Tail records sort l'album Roots Revival (TRCD 119) qui contient 16 compositions originales de rock n'roll d'Eva qui contient des titres enregistré en 2002 et 2003, He's gonna be my boy (un rock n'roll rapide), You do (solide medium rock n'roll), Shake this shack, I got to know (un médium rockabilly), Go young man (un génial white rock rapide), Hep hep hep (solide medium rockabilly), Country lover on my stone (country rockabilly), D-Day saturday (medium rockabilly), Far from over you (rock n'roll au style fin fifties), Open up (un rockin' blues), She never knew (blues), Little cupid (please) (rock dans le style de Janis Martin), Johnny my dear (magnifique teen doo wop), Shape up (solide rock n'roll), Someday (you'll see) (médium rock)et Good-looking teacher (un rockabilly rapide) . Encore un album époustouflant mais au style majoritairement rock n'roll plutôt que rockabilly.
En 2004 Eva sort toujours pour Tail records l'abum En ny stil i stan (TRCD 123), un albulm contenant 17 compositions originales d'Eva mais cette fois ci écrites et chantées en Suèdois et non en Anglais.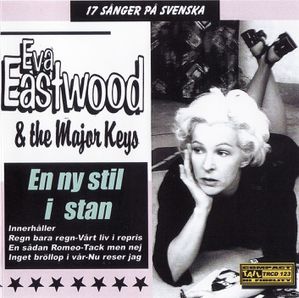 On pourait s'attendre à quelques choses d'étrange mais en fait cela passe trés trés bien, le style des titres est plus typée rock n'roll fin fifties et teen rock mettant en avant ses influences de Jo Ann Campbell ou Connie Francis dans ce que ses dernières ont fait de plus rock et c'est encore une fois une réussite à 100% les titres sont Vàrt liv i repris, Hopplöst fall (sonorités do wop), En sadan Romeo, Rockabilly Willy, Regn bara regn, En ny stil i stan, Metbäcken 51, Allting om kjell, Tack men nej, Farfars 50-tal, Inget bröllop i var, betala din râkning Bill, Nu reser jag, Johnny min vân, Minn kille liknar inte Elvis, Tânk vad han liknar dig et Inte jag som styr.
Cet album est original car il est sans doute le seul à compiler des titres originaux dans un style fin fifties comme pour les précédents encore un grand hommage au talent d'Eva Eastwood.
Par la suite Eva sort deux autres albums durant la decennie que nous verrons dans un autre article.
Eva Eastwood - He's Gonna Be My Boy
Eva Eastwood - Buddy I Got You
Eva Eastwood - Shake This Shack
Eva Eastwood - Everybody´s Gone And Done It
Eva Eastwood - come on in
Eva Eastwood And The Major Keys - Everybody´s Gone And Done
Eva Eastwood - Rockabilly Willy
Eva Eastwood Allting Om Kjell
Eva Eastwood - Johnny My Dear