17 janvier 2010
7
17
/

01
/

janvier
/

2010
15:40
Il s'agit d'un groupe de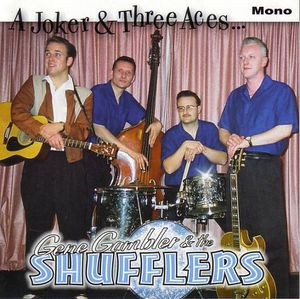 Rockabilly authentique originaire de South Wales (Royaume Uni) qui se forme en 1992.
Il est formé de Gene Gambler( leadeur vocal et guitare rythmique), Rob Nedin (guitare solo), Martin Ford (contrebasse), et Mark Kemlo (Batterie).
Ils accompagnent de nombreux chanteurs des fifties comme Johnny Powers et Narvel Felts. En 2003 ils enregsitrent un album sur Royal Flush records en 2003 A Jocker & Three Aces... ( RFRCD001) qui contient des compositions rockabilly rapide dans l'esprit des enregistrements Sun des fifties de Gene Gambler Crazy over you, Moanin' Minnie, Crazy Jake, Jungle Queen et Like a bomb, Rob Nedin compose Heart of black (un rockabilly rapide), au niveau des reprises nous trouvons quasiment que du Sun rockabilly soit For quite a while (de Ben Hewitt), How come you do me ? (de Jimmy Haggett), Chains of love (de Gene Simmons), Wrong (une ballade avec vocaux de Jack Clement chez Sun en 1958), Sweet and Easy to love et 'A cat called' Domino (de Roy Orbison) et le titre explosif My cousin Louis (dont je ne connais pas l'original).
Un Bon disque de rockabilly authentique et explosif.






Gene Gambler & The Shufflers - Moanin' Meenie

Gene Gambler & The Shufflers - Crazy Over You