27 octobre 2010
3
27
/

10
/

octobre
/

2010
23:51
The Crazy Teds est un trio japonnais de rockabilly Teddy Boys.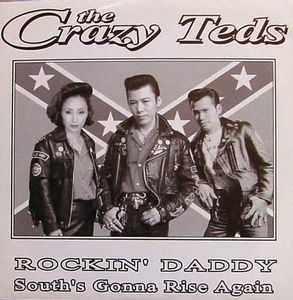 Qui en Aout 2003 enrgistre à Osaka un 45 tours sur Diablo records (Diablo 019).
Le groupe est formé de Ritchie à la guitare (et au chant sur Rockin' Daddy), Hiroo à la basse (et au chant sur South's gonna rise again) et Masako (une fille) à la batterie.
Les deux covers de Rockin daddy (Sonny Fisher) et South's gonna rise again (Jesse James), sont exécutées sans hésitation dans un style teddy boys sauvage bien senties, attention quand même comme c'est écrit sur le disque « For teds and rockers only ».
le myspace du groupe: http://www.myspace.com/thecrazyteds
le site web du groupe: http://www.teddyboyrocker.com/