17 août 2010
2
17
/

08
/

août
/

2010
22:39
The Roadhouse Rockers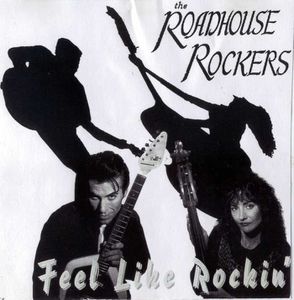 est un trio de Rockabilly Rock n'roll et surf originaire de Santa Barbarra (Californie) dont les deux mebres fondateurs sont Tony Balbinot (guitare et chant) et Mickey Rae (contrebassiste et chanteuse) par contre les batteurs se sont succédés Evan Richards, Ian Falgout, Johnny Pulmer ou Jerome TAYLOR.
Il font des concerts au côté d'artistes aussi variés que Dick Dale, Santana, Carl Perkins, The Violent Femmes, Etta James, Jerry Lee Lewis, Cowboy Mouth, Bo Diddley, Dwight Yoakam, Wanda Jackson, Link Wray, Ronnie Dawson ou Martina McBride. Par la suite ils changent de nom pour The Cadillac Angels.
En 1992 ils enregistrent un simple de rockabilly Baby Doll/ A bop a baby qui fait artie de la bande originale du film Deuce coupé. En 1994 ils enregistrent l'album Feel like rockin' (OCD 1) sur Overland records.( Best Roots Rock Demo par le South By Southwest (SXSW) Music Showcase d'Austin).
Il contient 13 titres Roadouse Rockin' un néo rockabilly de leurs composition en medley avec une cover du Rumble de Link Wray, Hey Loretta est un rock n'roll dans le style de Bo Diddley et Buddy Holly, Big Bad You est un médium rockabilly avec Mickey (la contrebassiste au chant), Love me the way chanté en duo (Tony et Mickey) est un rock n'roll dans le style de Buddy Holly, Can you rock n'roll? avec Mickey au chant est un rockabilly blues, Rampage (une cover de l'instrumental de Link Wray de 1959), Cold cold water (est une ballade country chanté en duo par Mickey et Tony), Little Eilen (un trés bon white rock), Jenny Kay ( est un rock n'roll dans le style d'Eddie Cohran), Ready to rock (est un néo rockabilly dans le style des Stray Cats), High school confidential (cover du tube de Jerry Lee Lewis avec Mickey au chant), Feel like rockin' (est un rockabilly authentique qui raviera les amateurs de contrebasse) et Cowboy songs (est une ballade country chanté en duo).
Cet album est une assez belle réussite mettant en avant les talens de musiciens mais aussi de compositeurs des deux membres principaux du groupe, je regrette seulement que la présence des deux ballades country qui cassent un peu le rythme soutenu des autres titres du disque