15 janvier 2011
6
15
/

01
/

janvier
/

2011
22:49
Même s'il est souvent méconnu de l'amateur de rock,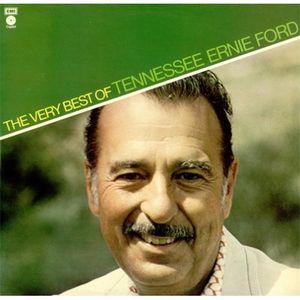 Tennesse Ernie Ford est une personnalité majeure des précurseurs du genre. Ernest Jennings Ford (alias Tennessee Ernie Ford est né le 13 Février 1919 à Bristol (Tennessee), il commence sa carrière comme anonceur dans la radio locale WOPI-AM. Il quitte la radio pour le conservatoire de musique dans l'Ohio. Il part ensuite à la guerre dans l'US Air Force dans l'équipage des B-29 Superfortress.
La guerre finit, il travaille dans des stations de radio à San Bernardino et Pasadena (Californie). Puis passe d'annonceur à animateur d'un programme musical country pour la radio KXLA du nom de Bar Nothin' Ranch time pour lequel il crée le personnage de Tennessee Ernie qui devient très populaire.
Progressivement il devient une personnalité incontournable du monde de la country and western local part les nombreux concerts qu'il organise, et commence à se produire avec un groupe sur scène. Devant son succès en tant qu'animateur radio il devient animateur de show tv country comme le Dinner Bell Roundup et plus tard The Tennessee Ernie Show (260 épisodes de 15 minutes seront produit par RadiOzark). En tant qu'artiste il signe un contrat avec Capitol records en 1949.
Dés 1949 il rentre dans les charts country avec Tennessee Border (8), Country Junction (14), Smokey Mountain Boogie (8), Mule Train (1 des charts country et 9 des charts pop) et Anticipation blues (3).
En 1950 il classe The Cry of the Wild goose (2 country et 15 pop), Ain't Nobody's business but my own (en duo avec Kay Starr) (5 country et 22 pop) et I 'll never be free (2 country et 3 Pop).
En 1951 il classe The shotgun boogie (1 country et 14 pop) qui est avec l'adoption du rythme boogie woogie un exemple de rock n'roll primitif, Tailor made woman (avec Joe Fingers Carr qui se classe 8 des charts country), Ocean of tears (duo avec Kay Starr, 15 pop), You're my sugar (duo avec Kay Starr , 22 pop), Mr and Mississippi (2 et 18) et The strange little girl (9) on peut aussi noter les deux country boogie Kissin bug boogie et Rock city boogie (avec les Dinning Sisters) et sa cover du Hey good lookin' de Hank Williams.
En 1952 il classe Blackberry boogie (6) un autre classique du rock n'roll primitif et on peut noter aussi son premier duo avec la chanteuse Ella Mae Morse False Harted girl et le titre Hambone .
En 1953, il classe Hey, Mr cotton picker (8) et enregistre un duo avec Molly Bee Don't strat courtin' in a hot rod Ford.
En 1954 il classe River of no return (Chanson du film du même nom en français La Rivière sans retour, à la place 9 des charts country) et Honeymoon's over en duo avec Betty Hutton (place 16 Pop).
Il est accompagné durant cette pèriode par les Hometown boogie (avec Speedy west à la stell guitare et Jimmy Bryant à la guitare solo. Et continu sa carrière à la télévision comme ses apparitions dans le programme I love lucy.

En 1955 il classe The Ballad of Davy Crockett (4 country et 5 Pop) et His hands (qui se classe 13 des charts country titre venant de son album de gospels Spirituals). Mais c'est avec Sixteen tons qu'il rentre dans l'histoire de la musique qui se classe à la première place des charts country et pop et devient l'un des simples les plus vendui de l'histoire, il s'agit d'une version d'un titre écrit par Merle Travis en 1946 s'inspirant de la vie de sa famille qui travaille dans les mines de Muhlenberg County dans le Kentucky.
En 1956, il classe You don't have to be a baby to cry (78 pop), That's all (12 country et 17 pop), Roving rambler (qui se classe 60 dans les charts pop qui sera repris par Marvin Rainwater) et First born ('6 country) on peut aussi noter une version du traditionnel John Henry et du rock primitif Rock n'roll boogie. Il obtient aussi cette année là son premier programme de variété en prime time The Ford Show qui durera du 4 Octobre 4, 1956 au 29 Juin 1961. Il enregistre son premier album de gospel Hymns qui reste dans le Billboard's top album durant 277 semaines consecutives.
En 1957, il classe Watermelon song (87 pop), One suit (93 pop) et In the middle of an island (23 pop).
En 1958, il classe Sunday Barbeque (97 pop) et Glad Rags (100 pop),
Entre 1962 et 1965 il anime le show de variété The Tennessee Ernie Ford Show sur KGO-tv de San Fransisco.
En 1964, il obtient un Grammy awards pour son album gospel Great gospels songs.
En 1965 il se retrouver dans les charts avec Hicktown (9 country)
. Entre 1969 et 1976 il retourne régulièrement dans les hit parades avec Honey-eyed girl (1969 - 54 country), Happy songs of love (1971 – 58 country), Printers alley stars (1973-66 country), Farther Down the River (1973 -73 country), Colorado Country Morning (1973 – 70 country) , Come On Down (1975 – 52 country), Baby en duo avec Andrea Willis (1975 – 63 country), The Devil Ain't a Lonely Woman's Friend (1975 -96 country) et I Been to Georgia On a Fast Train (1976 – 95 country)
En 1990 il est introduit dans le Country Music Hall of Fame et en 1994 dans le Gospel Music Hall of Fame.
De Tennessee Ernie Ford je possède The Very Best of (Capitol/Emi E-ST 23301) contenant 16 fabuleux classiques de l'artiste qui mettent en évidence non seulement le talent de Ernie mais surtout ravieront l'amateur de Rock n'roll par son style country teinté de rythme boogie. Nous trouvons les titres Sixteen tons, Kentucky Waltz, Blackberry boogie, River of no return, Milk em i the morning blues, bright lights and blonde haired women, Tennessee local, Ballad of David Crockett, Shot gun boogie, Give me your word, Feed 'em in the morning blues, Stack-o-lee, Anticipation blues, You don't have to be a baby to cry, Mule train et The old Rugged Cross.

Tennessee Ernie Ford sings "John Henry"
Tennessee Ernie Ford - 16 Tons (Go-Go Version)