8 juin 2011
3
08
/

06
/

juin
/

2011
07:35
Randy & the Rainbows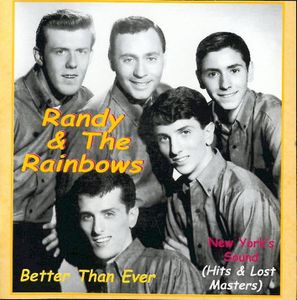 est une formation de Doo wop qui se forme à Maspeth (New York - USA) en 1962 à partir de l'idée de deux frères Sal et Mike Zero fan de Doo wop rejoint par deux autres frères Frank et Dominick "Randy" Safuto (membres des Dialtones) complété par Ken Arcipowski tous voisin d'un même quartier. Le groupe obtiendra un tube international avec le doo wop stroll à tempo rapide Denise en 1963, le titre monte durant l'été dans le top ten et se classe 18 des charts R & B. Le titre est une composition de Neil Levenson qui compose auparavant de nombreux titres pour Paul Anka. La chanson dont le premier nom est Pretty Girl, devient Denise en référence à une jeune fille rencontrée par Neil sur la plage Denise LeFrak. C'est le groupe de doo wop trés populaire à l'époque The Tokens qui recherche un groupe afin d'interpretter le titre et le choix se porte sur la jeune formation de Mathpeth formée par les frères Zero et Safuto du nom de The Encores. Le titre est enregistré part ses derniers dans les studios d'Allegro Sound de New York. Le master est ensuite envoyé à Laurie Records (le label qui a produit Dion and the Belmonts), Laurie est séduit par le titre, mais change le nom du groupe par Randy and the Rainbows. (On peut noter la cover du titre chanté par Blondie sous le titre de Denis).
Le groupe fait alors des tournées nationales aux côtés d'autres stars comme The Four seasons, Dionne Warwick, The Beach boys, The Drifters, Stevie Wonder, Gene Pitney, The Searchers, The Miracles etc....
Ils enchaine un second hit dans la même veine que le précédent Why do kids grow mais à cause de l'assassinat du président Kennedy et le drame national qui s'ensuit le titre n'obtient pas le succés prévu.
Lorsque le traumatisme Kennedy commence à passer au début de 1964, La formation anglaise The Beatles commencent à se faire connaître aux USA et envahi le hit parade.
Le groupe revient en studios fin 1970's et durant les 1980's avec des titres toujours écrit par Levenson comme Minstrel Man et A Simple Love Song et même un titre disco Hey Look Who's Dancin!!!
Durant les 1980's kle groupe tourne beaucoup et obtiennent un tube avec un tribute au Four Seasons (une autre légendaire formation de doo wop du début des sixties) The Boys From Queens Salute the Jersey Boys qui se classe à la 25 eme place des charts. En 2007 le titre Denise est redécouvert grâce au dernier épisode de la série The Sopranos dans lequel le titre est présent, ce qui permet au groupe de revenir en tournée et en studios.
Groupe qui est scindé en deux firmations homonymes la première Mike Zero's Randy & The Rainbows est formée par Mike Zero, Vinny Carella, Jack Vitale et Jimmy Bense (qui les rejoint en 1990) et la seconde Randy Safuto's Randy & The Rainbows composée de Randy Safuto, Frank Safuto, Anthony Vara et Charlie Rocco.
Pour en savoir un peu plus je vous conseille d'aller sur leur site web: http://www.randyandtherainbows.com/
Evidemment ce qui va nous interresser ici se sont leurs faces des sixties présentes dans leurs totalité sur la compilation Randy and The Rainbows - Better than ever de Thrust records (R 5059). Nous trouvons leur simple légendaire Denise / Come back (Rust Records - 5059), qui sortira au Canada sous l'édition Barry Records - B3191 sur Quality records, en Inde sous la référence Stateside Records 45-5S214 Gramophone et en France sous l'édition Vogue Records ELP 8143 EP. Nous trouvons également leurs 3 simples sur Mike Records de 1965 soit Lovely lies / I'll forget him tomorrow (MK4001), Quater to Three (cover de Gary Us Bonds) / He's a fugitive (MK 4004) et Bonnie's Part of town/ Same (MK 4008) et le simple de 1966 I'll be seeing you / Oh to get away Puppy records (BTP 535);
Mais les faces les plus interressante sont celles enregistés en 1963 et 1964 qui sont du pur doo wop stroll comme comme Why do kids grow up / She's my angel, Happy Teenager / Dry your eyes, Little Star (cover des Mystics) / Sharin' et Joyride / Little hot rod Suzie (un titre surf doo wop dans la veine des Beach Boys).
On peut noter les faces particulièrement brillantes et antèrieurs enregistré par The Dialtones le premier groupe formé par les frères Safuto trés influencé par Dion and the Belmonts comme Don't Worry , i'm gonna make it (Take it like a man), 'Till i heard it from you et Johnny auquel se rajoute 3 démos dont deux versions différentes de Johnny et 'Till i heard it from you et un titre non édité à l'époque Bohemian Daddy (un doo wop rock n'roll au son fifties assez fabuleux!!)
Enfin nous trouvons des faces doo wop toujours de 1964- 1965 comme Till i heard it from you, No love, Debbie ( dans le style de Denise), Try it impossible (ballade mélancolique), Trick it rich (avec une production dans l'esprit de Denise) et Angel Face un des meilleurs titres du disque un doo wop rapide dans le style des Marcels, je conclurais en signalant la sympathique et assez différentes version de leur tube Denise réalisée en 1981.
Randy and the Rainbows - Denise
Randy and the Rainbows - Angel face
Randy and the Rainbows - She's my angel