1 juin 2009
1
01
/

06
/

juin
/

2009
09:47
Gene Summers est né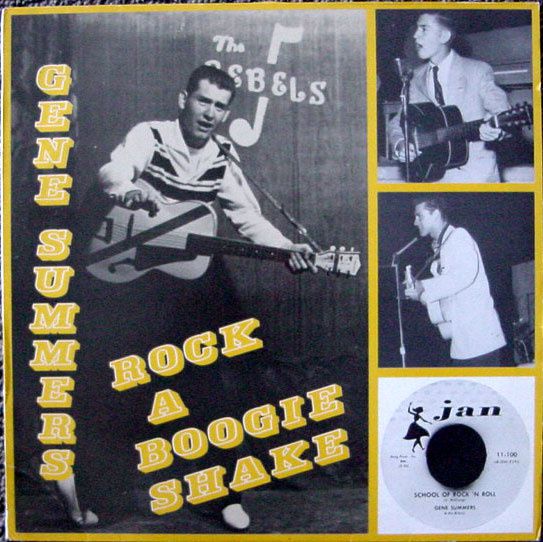 à Dallas. Ils forme son groupe les Rebels est formé de 3 camarades du Arlington State College, lui même au chant et guitare rythmique, james McClung à la guitare solo et Gary Moon à la batterie, ils sont rejoint ensuite par Benny Williams qui vient de son côté de la Thomas Jeffesrson High.
Leur premier engagement est pour le show TV "Country Picnic" sur les programmes de Chaine locale de télévision de dallas. Ils sont alors reperré par Jed Tarver qui leur obtient un contrat pour Jan records, un nouveau label de Dallas. Son succés lui permet également de tourner avec Bobby Darin, Fats Domino, Bo Diddley, Big Joe Turner, Chuck Berry, Ray Sharpe, Gene Vincent, Duane Eddy, Eddie fontaine, Jerry Lee lewis, Carl Perkins, Ronnie Hawkins, Johnny Carroll, Sid King et Joe Poovey. Ses faces les plus importante ils les réalisera durant les fifties sur le label Jan, mais également d'autres tout aussi interressante sur d'autres labels durant les sixties et seventies, il est en effet un des rares chanteurs à enregistrer du rockabilly sauvage durant 3 decénnies.
Le disque qui a mon avis est indispensable est le Gene Summersd The texan rebel sur Jan 33-8011.
On y trouve de 1957 Baby are you kiddin' morceau enregistré avec les 3 rebels originaux sit sans basse, de 1958, le génial Shool of Rock n'roll et Straight skirts (autre excellent rockabilly) 2 titres enregistré avec les Rebels originaux avec Benny Williams à la basse, Gene réalise également en 1958 avec Rene Hall à la guitre solo en plus de James Mc clung, Plas Johnson au sax, Earl palmer à la batterie, et la présence de vocaux réalisés par the 5 Masks, d'autres petites perles du Rockabilly comme Gotta lotta that et Twixteen.En 1959 on peut noter le trés bon Rockaboogie Shake qui ne sera pas sortie à l'époque avec James McClung à la guitare solo, mais Jack Castleberry est à la basse et Charlie Mendias à la batterie, mais aussi le single The Rebel -Johnny Yuma / Honey Hush avec les même musicien plus Codine Craft au piano. le lp Jan rajoute aux faces fifties quattre chef d'oeuvre du rockabilly sixties Dance, dance, dance de 1962 sortie sur Alta records avec James McClung à la guitare solo, David Martin à la basse, Glenn Kenner à la guitare rythmique, Charlie mendias à la batterie et Mel Robinson au saxophone, Big blue Diamonds qui sortira en 1963 sur Donniebrooks records et en 1964 sur Capri et Jamie records et enfin Alabama Shake (énorme classique du rockabilly) qui sortira en 1964 en pleine beatlesmania sur Capri records, sur cet session nous trouvons James McClung à la guitare solo, Jacl casteleberry à la basse, Charlie Mendias à la batterie, CB Williams au saxophone et Ernest Walker au piano. Jan nous rajoute en bonus quattre titres des seventies sortis sur rel lake county records comme l'excellent Wine wine wine en 1975, et 3 titres de 1977 Mister Rock n'roll, I've had it et You're gonna be sorry.
Si vous ètes séduit par le style lourd et sauvage de Gene Summers, on ne peut que acheter le cd Roller coaster digipack RCCD 3035 Rockaboogie shake qui contient 35 titres avec un grand nombre d'inédits et évidemment une quasi complète de ses enregistrements des 50's et 60's. School Of Rock 'N Roll / Nervous / Straight Skirt / Gotta Lotta That / I'll Never Be Lonely / Twixteen / Someone Somewhere / Alabama Shake / Almost Persuaded / Dance, Dance, Dance / If You Don't Come Home / Just Because / Fancy Dan / Almost 12 O'Clock / The Push / Alabama Shake (alt. vers.) / Suzie Q / Baby Are You Kiddin' / Twixteen (alt. vers.) / Nervous (alt. vers.) / Rockaboogie Shake / Gotta Lotta That (alt. vers.) / Domino (with The Blue Cats, prev. unissued) / Rock 'N' Roll Ruby (with The Blue Cats, prev. unissued) / So Glad You're Mine (with The Blue Cats, prev. unissued) / Broken Dreams (vers. 1) / Shake, Baby, Shake (with The Blue Cats, prev. unissued) / Down On The Farm / Cool Baby / I've Had It / Rockin' Daddy / Good Rockin' Tonight / Leroy / Wine, Wine, Wine et As Long As I Have You.

GENE SUMMERS & HIS REBELS - SCHOOL OF ROCK 'N ROLL / JAN 45
Gene Summers - Be bop a lula
Gene Summers - Nervous


Gene Summers - Twixteen


GENE SUMMERS on CAPRI label! ALABAMA SHAKE 45RPM