11 juin 2009
4
11
/

06
/

juin
/

2009
13:58
Esquerita de son vrais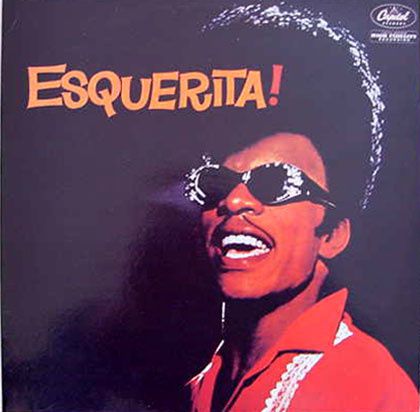 nom Eskew Reeder Jr est né à Greenville en Caroline du sud. Esquerita est un autodidacte en musique, il apprend seul le piano et s'exerce tout les dimanches à la messe durant sa neuvième et dixième année. De part son incontestable talent, il rejoint rapidement un groupe Gospel de New York les Heavenly Echoes, qui sort un single sur Baton records en 1953 Didn't it rain.
De retour à Greenville, il ouvre à Washington Street un club rock n'roll The Owl Club, dans lequel il se produit sous le nom de Professor Eskew Reeder. C'est dans ce lieu que Paul Peek, guitariste de Gene Vincent le découvre. A l'écoute de bandes démos enregistrées à la radio WESC de Greenville, Gene Vincent arrive à convaincre Capitol records de le produire. Capitol transforme son nom d'artiste en Esquerita et réunis un groupe d'accompagnement composé de Tony White à la basse, Vincent Mosley à la guitare, Ricardo Young à la batterie, mais également lui adjoint un groupe vocal d'Atlanta The Gardenias. Il enregistre ensuite avec son groupe le 15 & 16 Mai 1958 7 titres dont Oh baby et Rockin' the joint.
En geste de gratitude envers Paul Peek, Esquerita lui écrit son single le trés bon rock n'roll The rock around qui sort chez NRC records. En Aout 1958, Esquerita enregistre 21 nouvelles chansons enregistrées à Nashville, sur I live the life i love et This thing called love on trouve les Jordanaires (le fameux groupe vocal d'Elvis Presley chez RCA dans les fifties) en accompagnement vocal. 12 de ses 21 enregistrements sortent en Mai 1959 sur l'indispensable album Esquerita!.
Durant les sixties il enregistre un simple pour Everest records A tear / Johnny little en 1963. En 1964 il participe au côté de Jimmy Hendrix à l'album de Little Richard Little Richard Greatest sur VeeJay. Et en 1968 il signe chez Brunswick pour le simple As Time Goes By / Mama, Your Daddy's Come Home avec en accompagnement Dr John à l'orgue.
Le style de Esquerita est proche de celui de Little Richard, mais n'est pas du tout un clône, à l'écoute de ses faces Capitol, son chant et son jeu de piano lui sont vraiment spécifiques. Son album de 1959 Esquerita ! Capitol 1186 (rare et chère aujourd'hui mais ayant été heureusement réédité à l'identique au début des années 1980) est évidemment une merveille de rock n'roll noir sauvage à posséder absolument. Il contient les titres Hey Miss Lucy , She Left Me Crying, Hole In My Heart , Believe Me When I Say Rock 'n' Roll, I Need You, Why Did It Take You So Long, Get Back Baby, I'm Batty over Hattie et Gettin' Plenty of Lovin'.
Les faces Capitol n'ayant pas été sorties sur ce lp à l'époque sont présente sur le lp Ember Wilcat shakeout de 1969 que je ne possède pas pour l'instant, album qui contient les titres Rockin' the Joint, Hole in my Heart, Hey Miss Lucy, Get Back Baby, Baby You Can Depend on Me, I'm Batty over Hattie, Crazy Crazy Feeling, Gettin' Plenty of Lovin', Esquerita and the Voola, Laid Off, Believe Me When I Say Rock and Roll is Here to Stay, Oh Baby, I Need You, Why Did It Take So Long?