2 février 2010
2
02
/

02
/

février
/

2010
15:23
Wild Rooster est une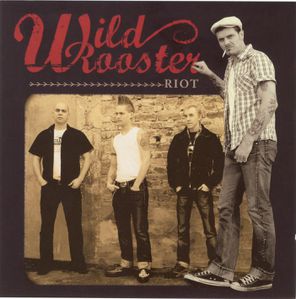 formation de néorockabilly avec influence teddy boy suédoise. Le ledaeur est Stefan Jâgermyr (Steve Riot) qui auparavant faisait partie des groupes Snakebite et Crossfire, mais également joue sur l'album de son ami Wild Bob burgos A lifetime of rockin'.
Les autres membres du groupe sont Lars Wermlund (membre des Snakebite et des Dreadnoughts), Kim Amberg (qui joue avec The Blue Eagles et The Rockin' wildcats et David Sundqvist (qui joue auparavent avec Hailstone).
Ils sortent en 2008 l'album Riot sur Old rock records en 2008 (orr 2008-1), ce dernier contient 12 compositions sur les 14 titres présent ssur le disque. Ces 12 compositions sont l'oeuvre de Stephan Jagermyr nous trouvons: Rock n'roll pills (un bon rockabilly type Crazy Cavan), Riot (un medium néo rockabilly au son teddy boy avec également une influence psychobilly dans les vocaux), Mans ruin (un Rock n'roll type Rock n'roll britisch 1970's avec piano), Rockabilly life (un rockabilly rapide teddy boy), Rampage (un rockabilly psychotique entre Crazy Cavan et les Meteors), Pink little rambler(du rockabilly rapide à la Crazy Cavan avec trés bel accompagnement piano), Get Ready (un rock n'roll à la Chuck Berry), Rockabilly music (un rockabilly rapide avec influence Stray Cats), Run Boy (un néorockabilly medium et psychotique), Long black train (un néorockabilly rapide avec influence Crazy Cavan), et Victoria (génial néo rockabilly mélodique dans le style des Black knights), The return of the Ghostrider est un rock n'roll instrumental bien mené composé par le groupe, au niveau covers nous trouvons: Stompin' With The Wildcats de Johnny and the Roccos et South's Gonna Rise Again de Jesse James.
L'ensemble fait un album de Rock n'roll et Rockabilly particulièrement original et vraiment réussi à découvrir.
Wild Rooster - Rockabilly life
Wild Rooster - Victoria
wild rooster live at the real gone weekender 2009 finland

Wild Rooster Riot in live
.