25 février 2010
4
25
/

02
/

février
/

2010
21:26
Whitey Pullen devient une légende du Rockabilly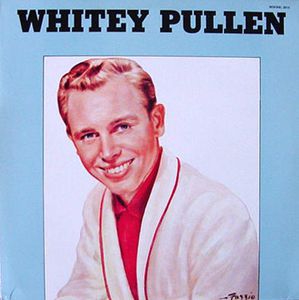 et White rock à cause de deux magnifique rockabilly rapide Walk my way back home et surtout Sunglasses After dark qu'il enregistrera sous le pseudo de Dwight Pullen.
Whitey est originaie de Blountsville dans l'Alabama le 5 Mars 1931, c'est à l'école qu'il commence la musique, il est influencé par l'émission radio de Red Foley Ozark Jubilee, sa famille va s'installer ensuite à Birmingham dans l'Alabama. Il entre dans la Navy pèriode duirant l'aquelle il fait des concerts dans des clubs d' Anchorage (Alaska) ville ou il est basé. Il se marie alors avec Margaret, il découvre parallèlement grace à la Tv des aristes comme Ray Pricen, Collins kids ou Carl Perkins qui l'inspire stylistiquement.
Son premier simple I'm Beggin' your pardon / Broke wxaiting for a breack sort en Décembre 1956, sur ce titre nous trouvons Bob Saxton à la guitare solo.
Fin 1957 le titre Sunglasses after dark est une composition de James Noble qui sera enregistré por Whitey grace à Joe Carlton (de Carlton records), il semblerait que Kenneth Rogers (qui deviendra une superstar de la Country durant les 1970's sous le nom de Kenny Rogers) soit présent sur cet enregistrement légendaire. Le titre sera couplé avec le trés bon rock n'roll Teenage bug. Le 3 Mars 1958, nous trouvons une critique élogieuse de ce single sur le Bilboard Magazine, mais malgrés cela le titre ne devient pas un hit.
Ensuite Pullen quitte Carlton pour Sage & Sand records, en Octobre 1958 sort son premier et génial simple Walk my way back home (un génial white rock rapide)/ Don't make me cry (un trés bon médium rock), son simple suivant By you by the bayou / It's over with sort en Décembre.
Ce disque reçoit lui aussi une critique élogieuse dans le Bilboard magazine du 5 Janvier 1959. Il obtient avec ce titre un petit hit et enregistre en Janvier 1959 un troisième simple You'll get yours someday / I lived a lifetime last night.
Sur les sessions de Pullen chez Sage nous trouvons Roy Lanham à la guitare solo (qui s'est distingué en jouant avec des vedettes de la country comme The Delmore Brothers) et peut être James Burton (guitariste légendaire de rockabilly qui joue derrière Ricky Nelson sur ses faces légendaires Imperial , mais aussi derrière Elvis Presley.
En Mai 1959 Pullen met en boite une autre perle du rockabilly rapide Let's all go wild, durant cette periode il travaille avec Pat Mason manager de Gene Vincent. Pour cette raison sans doute nous trouvons deux compositions de Pullen sur l'album Crazy times (Capitol T 1342) de Gene Vincent soit les titres Everybody's got adate but me et le génial et incontournable She she little sheila.
En Novembre 1959, Pullen enregistre le trés bon white rock Tuscaloosa Lucy qui sera couplé avec le plus calme et country Waltz of the steel guitar.La carrière prometeuse de Pullen s'arrête brutalement le 24 Novembre 1961 à l'age de 31 ans par un cancer.
A titre posthume le label Crown sort le premier album Country music star (332) de Pullen contenant ses titres Sage et d'autres inédits de cette pèriode comme Tigh Slacks, What are we going to do, So much to remember, Moonshine Liquor (un fantastique rock) et Waltz of the blues. C'est en 1963 qu'est édité le dernier simple Sage de Pullen soit le bon rock Crazy in love associé au calme I won the day i lost you qui suit de prés le succés commercial de l'album de Pullen.
Durant le premier revival rockabilly des 1970's un simple composé de deux Rockabilly inédits 1950's de Pullen soit Drinkin' Wine/Everybody's Rockin.

Au niveau des lps de Whitey Pullen je conseille le Walk my way back home de Revival records (Revival 3014) contenant la plupart des classiques de Dwight soit Let's all go wild, Moonshine liquor, Everybody's rockin', Drinkin' wine spo-dee-o-dee, Gently, You'll get yours someday, Waltz of the steel guitar, sunglasses after dark, Teenage bug, Walk my way back home, Tuscaloosalucy, Crazy in love, Let your left hand know, I won the day i lost you et Don't make my cry.
Whitey Pullen (walk my way back home)
Dwight (Whitey) Pullen - Teen Age Bug
Dwight (Whitey) Pullen - Sunglasses After Dark
Dwight (Whitey) Pullen - Lets All Go Wild Tonight
Everybody's Rockin' - Whitey Pullen
Dwight "Whitey" Pullen - Tuscaloosa Lucy

Dwight (Whitey) Pullen - Drinkin Wine