28 septembre 2010
2
28
/

09
/

septembre
/

2010
23:30
C'est en 1993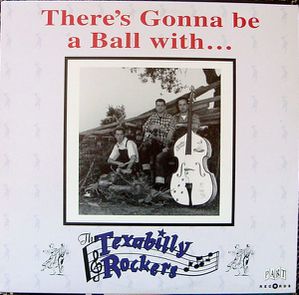 que se forme the Texabilly Rockers, un trio de Rockabilly authentique Portugais (Lisbonne) avec Wildcat Shaker (chant et contrebasse), Sonny Boy (Guitare) et Rui Tex Gomez (batterie).
Ils enregistrent 5 cd's et 1 25 cm 33 tours et participe à des festivals comme Hemsby (Grande Bretagne), Screamin' Summer (Espagne), Walldorf Weekender (Allemagne), Rockin' Race (Espagne), All Aboard (Pologne), Summer Jamboree (Italie), High Rockabilly (Espagne), Rockin' around Turnbout (Belgique), Bedrock Weekender (Danemark), Good rockin' tonight (France), Hot Rock Riot (Suède), Bedrock Weekend (Danemark) et The Ace Cafe even (Grande Bretagne)
Je possède leur 25 cm There's gonna be a ball with enregistré en 2000 sur Part records (Part-lp 338.002) contenant des covers au son incroyablement authentique, avec un style dépouillé et maitrisé dont la voix du chanteur semble sortir d'un studio du sud des USA au milieu des 1950's.
Nous trouvons 10 covers There's gonna be a ball (de Rudy Grayzell), Jump from six to six (de Al Barkle), When i found you (de Jerry Reed), Hold me baby (de Sonny Fisher), In the mood (le fameux instrumental swing de Glenn Miller), Draggin' (de Curtis Gordon), Who was that cat? (des Go cat go), 56 days, Snake dance boogie (de Roy Hogsed) et Mr Whizz (de Jerry Reed).
Le disque est nerveux rapides et plein de rythmes, le groupe fait du rockabilly primitif mais avec un style bien à lui qui lui permet de s'approprier les titres.

Texabilly Rockers - THERE ' S GONNA BE A BALL