30 juin 2010
3
30
/

06
/

juin
/

2010
23:56
Le Gulf Coast Sound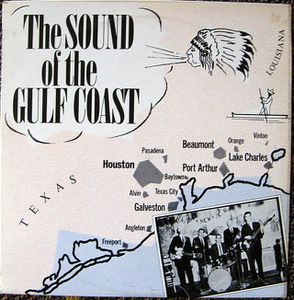 est souvent connu par le style musical que l'on appel Swamp pop qui est né de la fusion des styles musicaux du Sud de la Louisiane (Le Cajun), de la Nouvelle Orléans (le rhythm and blues de Fats Domino ou Guitar slim) et de Houston et du Texas (la country music). Durant les fifties un grand nombre d'artistes de cette région se font une réputation régionale grâce à leurs trés bons enregistrements commpe Rod Bernard, Jivin' Gene & the Jokers, Johnny Allen, Joe Barry, le seul qui obtiend un trés gros tube national est Bobby Charles avec son See your later alligator titre qui sera ensuite popularisé dans le monde entier par la reprise quand fera Bill Haley and the Comets.
Avec son 25 cm The Sound of the Gulf Coast Ace records (ACE 10 CH 20) nous fait découvrir en 10 titres le son et le style particulier des artistes de la région.
Une des grosse ville de cette région est Beaumont, et c'est là que Bill Hall place ses studios d'enregistrements dans lesquels enregistrent un grand nombre d'artistes locaux. Il met en boite par exemple trés bon white rock School day blues de Johnny & the Jammers (groupe ou nous trouvons le futur guitar heroes Johnny Winter agés alors que de 15 ans, accompagné par son frère Edgard au Saxophone), Winter jouera également sur Let me come your way de Burl Boykin (titre également présent sur ce 25 cm), Good lovin' un duo de Chase & Gene (soit Andy Chase et Jivin' Gene), deux titres de Chase Canfill (qui sera l'idôle de jeunesse de Winter) en solo Woke up this morning et I had a dream, B
Roy "Boogie Boy" Perkins (de son vrais nom E.R. Surez) est un des meilleurs représentant du style swamp pop typique de la région il commence sur Melody records, et ici nous trouvons deux faces qu'il enregistre pour Dart records en 1959 soit Sweet Lilly et True love. Andy Charles & the Blues kings enregistre Baby don't go en 1959 dans les studios Goldband de la ville de Lake Charles pour "D" records. Joey Mitchell est lui aussi un trés bon représentant du son de la région avec son No one else will do enfin The Velvetones présant sur ce disque avec Penalty of love est l'une des formations doo wop les plus populaires de la ville de Houston.
Ici trois titres dont celui de Boykin orésent sur le 25 cm