6 août 2010
5
06
/

08
/

août
/

2010
09:40
Le rock n'roll des années 1960's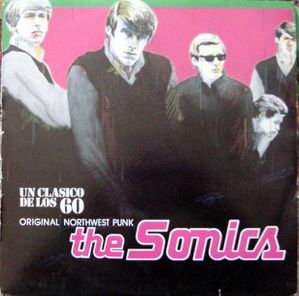 a vu la naissance d'un genre descandant direct du white rock sauvage de la fin des fifties est du black rock n'roll déjanté c'est le garage rock. L'un des meilleurs représentant du genre est The Sonics une formation formé par Gerry Roslie (Orgue et leadeur vocal), Andy Parypa (basse), Bob Lind (Saxophone) Larry Parypa ( guitare solo) et Bob Bennett (batterie) et originaire de la côte Nord ouest des USA (Tacoma).
En 1964 sort le simple The Witch (véritable chef d'oeuvre du genre) couplé à une cover de Little Richard Keep a knockin', en 1965 sort un second simple avec leur meilleur titre le fabuleux et ultra violent Psycho (couplé à The Witch ou Keep a knockin'!!), ils sortent jusqu'en 1967 14 simples (45 t) et 4 lp (33t)
C'est en 1965 que sort leur premier album Here are the Sonics (référence ultime du rock garage) qui contient un ensemble de chef d'oeuvres comme Psycho et The Witch mais également Boss Hoss et Strychnine. Leur second album incontournable est The Sonic Boom au son presque punk!!. On peut aussi rajouter deux autres albums un mini album de noël fin 1965 et en 1967 Introducing the Sonics.
Au niveau stylistique leurs influences sont loin de la pop des Beatles, du folk de Bob Dylan ou de la surf music des Beach Boys,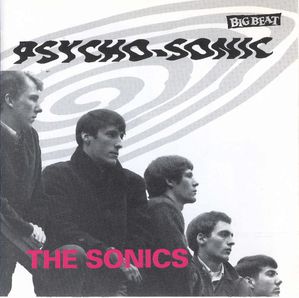 sans aucun doute il faut les chercher dans Link Wray et son white rock sauvage mais également dans des chanteurs fin fifties comme The Phantom avec Love Me et également auprés de Screamin' Jay Hawkins, Little Richard ou Larry Williams avec leur rock 'n roll noir hurlant. Le rock des Sonics se caractérise par des amplis réglés à fond proche de la saturation et un chant plein de violence et de hurlements.
Lorsqu'ils ne composent pas, ils enregistrent des covers de rock américains des fifties d'artistes comme Bo Diddley.
Au niveau des vinyls je possède le lp espagnol Un clasico de los '60 original Northwest Punk The Sonics qui parrait sur First American (31-0007) qui contient les deux classiques The Witch (1964) et Psycho (1965), mais aussi d'autres compositions originales comme You've got your head on backwards (1966), On the road again, Love lights (1966), I'm going home, I'm a rolling stone, Like no other man (1966) et Maintaining my cool (1966) et la cover du classique de Bo Diddley I'm a man (titre lui même inspiré par Hootchie coochie man de Muddy Waters).
Je me suis également procurer le fabuleux cd Psycho-Sonic de Big Beat (CDWIKD 115) qui contient 29 titres de 1965 leurs meilleurs compositions comme Witch (avec en plus une version live et une version studio différente), Psycho avec en plus une version live), Don't be afraid of the dark, He's waitin', Boss Hoss, Shot Down, The Hustler, Cinderella et Strychnine et des covers de rock 1950's et early 1960's Do you love me (The Countours), Roll over Beethoven (Chuck Berry), Money , That's what i want (Barnett Strong), Walking the dog (Rufus Thomas), Good Golley Miss molley (Little Richard), Skinny Minnie (Bill Haley & the Comets), Let the good time roll (Shirley and Lee), Don't you just know it (Huey Piano Smith), Jenny jenny (Little Richard), Louie louie (de Richard Berry repris début 1960's par The Kingsmen), Keep a knockin' (Little Richard), Have love will travel (Richard Berry), Durty Robbers (The Fabulous Wailers), Night time is the right time (écrit par Leroy Carr et popularisé par Ray Charles), Since i fell for you (Ballade jazz de 1945 de Buddy Johnson repris avec succés en 1963 par Lenny Welch), Hitch Hike (Marvin Gaye) et It's Alright (Chris Andrews)