18 juin 2010
5
18
/

06
/

juin
/

2010
14:06
Les Satellites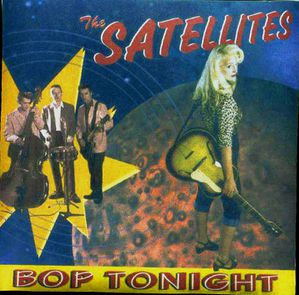 est un groupe de rockabilly australien qui se forme en 1994. Leur carrière décolle vraiment à partir du concert de 1997 au Wintersun festival de Queensland (Australie). Leur prestation particulièrement remarquée devant des dixaines de milliers de personnes, leur permet d'enregistrer en 1998 l'album Bop Tonight sur Planet records (CDX01), ils deviennent cette année là particulièrement populaire dans leur pays et en 99 ils sont élu la meilleur formation de rockabilly.
Le groupe se compose de Belinda Hartman (guitare rhythmique et chant), Paul Abram (guitariste solo et chant), Steve Mitchell (Contrebasse et chant et ancien membre des trios rockabilly The Hound Dogs et The Doo-dads) et Jad Green ( batterie ancien membre du groupe de soul Six little pigs). A partir du succés de leur premier cd, il se font connaître en Europe ou il particippe à des festivals de Rockabilly et de blues au côté de Ronnie Dawson ou johnnie Johnson.
L'album Cd Bop Tonight (CDX01) permet d'entendre 10 compositions originales allant du rockabilly authentique au sonorité plus néo rockabilly et les médium rockabilly avec les titres Bop Tonight (Bon rockabilly proche de Good rockin' tonight), Give me a chance (trés bon Rockabilly authentique avec Belinda au chant) , Put the bottle down (ballade country rockabilly), Rock me right(trés bon médium Rockabilly authentique), Blue denim (Néo rockabilly dans le style des Stray Cats), Buddy can you spare a dime?(bon rockabilly authentique rapide) , So Gone (un médium rockabilly teinté de jazz), 16 Days (néo rockabilly avec influence Johnny Powers), Lonesome (trés beau néo rockabilly), I'm a mover (un néo country rockabilly dans le style des Breathless) et Bobby Shack (le petit chef d'oeuvre du disque un rockabilly moderne qui bouge avec une bonne mélodie), au niveau des covers version trés originale de Train kept a rollin (Bradshaw / Burnette & R n'R trio), I need a man de Barbarra Pittman et Sweet talk de Rusty York (à noter sur ce titre des passages de contrebasse de foux!!).
Une des grandes force de ce CD est d'avoir tour à tour des titres chantés par Belinda ou un autre membre masculin et même des duos ce qui donne une originalité et une variété trés agréables,il manque peut être à cette album plus de titres classiques comme Bobby Shack.
Best Rockabilly Band 1999 - Best Performing Band 1999