22 août 2011
1
22
/

08
/

août
/

2011
09:41
Les Rock'a' Toons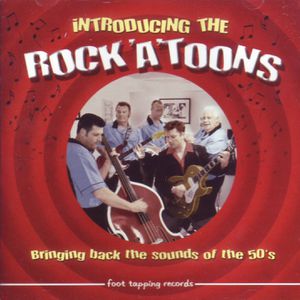 se sont fait une solide réputation lors de ses passages dans les clubs Rock 'n' roll, en ayant un répertoire varié allant de Jivers, Boppers et Strollers. C'est dans cet esprit de rock 'n' roll dansant qu'ils enregistrent sur le label Foot Taping Records l'abum Rock 'A' Toons - Introducing The Rock 'A' Toons.
Nous trouvons des compositions au son typiquement britannique comme le trés bon rockabilly Jump around on the moon, le rock dans l'esprit du rock anglais fifties Rock 'n' Roll Queen, le medium rockabilly You Do It For Me, le doo wop dans le style des Jets ou des Firebirds Talk To Me, l'amusant instrumental Looney Toon Theme, et le néo rockabilly My Sweet Shareena.
Au niveaux des covers nous trouvons du white rock avec Leroy (Jack Scott), Skinny Jim d'Eddie Cochran Honey bunn (Larry Donn) et Speed Limit (Tommy Lam), du doo wop avec Why do fools fall in love (Frankie Lymon & Teenagers), du rockabilly avec Got a lotta rhythm ( Patsy Cline),Okie Boogie (Johnny Tyler), du rock 'n' roll avec Baby Come Dance With Me (Good Rockin' Daddy's), du black rock 'n' roll avec Lucille (Little Richard), Brown Eyed Handsome Man (Chuck Berry) et Jim Dandy (Lavern Baker), du teen rock avec The Wanderer (Dion) et du rock sixties avec une version trés trés originale de House of rising sun (the Animals).
En résumé un bon album de rock 'n'roll à écouter sans modération.
The Rock 'a' Toons - Talk To Me
The Rock 'a' Toons - You Do It For Me
the Rock 'a' Toons - Jump around on the moon