15 décembre 2010
3
15
/

12
/

décembre
/

2010
20:19
The Raging Teens est une formation de la cote Est des USA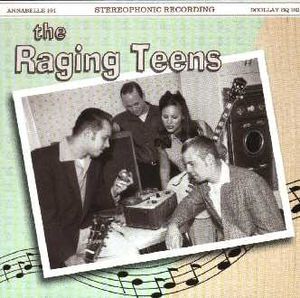 (Nouvelle Angleterre au sud du New Hampshire) formée par Kevin Pathey chanteur et guitare rythmique, Amy Griffin guitariste solo, Matt Murphy à la contrebasseet Keith Schubert à la batterie.
En 1999, ils enregistrent l'album The Raging Teens "Hot East coast Rockabilly!!! Recorded Live in the Studio!!! (Annabelle 101 - Scollay SQ 102) qui est un album trés énergique de rockabilly authentique contenant une majorité de compositions originales de bonne facture comme That's how i like it (rockabilly sauvage), Grandpaw (médium rockabilly), Roving eyes (rockabilly rapide), Ain't worth the time (un rockabilly dans le style des premiers Buddy Holly), Beantown bop (une rockabilly rapide), Cry (un white rock hypnotique), Can't have you (un rockailly sauvage dans le style de Johnny burnette and Rock n'roll trio) , Move move move (rockabilly rapide) et C J Boogie (le petit chef d'oeuvre du disque un rockabilly rapide dans le style de Rockin' Daddy avec une guitare à la Paul Burlison), mais également des covers comme Hot rod shotgun boogie (de Tillman Franks) et Bebop boogie (de J C cheramie alias Joe Clay).
L'année suivante nous les retrouvons dans les Ecco-Fonics studios de Deke Dickerson à Hollywood (Californie) ou ils enregistrent un second album Rock 'n' roll party! sur Rubric records (Rub 12) ici aussi une grande majorité de bonne composition dans un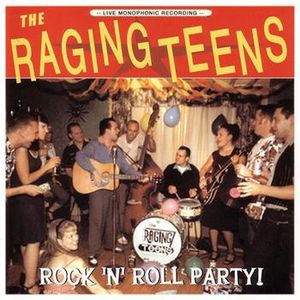 style authentique Hit the town (un rockabilly sauvage),Let's drink some booze (un rockabilly boogie avec Sonny Leyland au piano), Waitin' right here (ici aussi un petit chef d'oeuvre rockabilly), Lies (un hillbilly rock vraiment réussi), Snowbound (un rock rapide dans le style de Jerry Lee Lewis avec de nouveau Carl Sonny Leyland au piano), Starry in the city (un trés bon rockabilly medium), Rock 'n' roll party (un bon white rock), Pretty brown eyes (un rockabilly rapide), Annabelle (un medium rock n'roll avec mélodie trés réussie) et Walkaround (un rockabilly instrumental), et des covers comme Rollin' Pin Mim (Ricky Coyne), High Class baby (Cliff Richard) et I'm on fire (Jerry Lee Lewis).
The Raging Teens at TT's -"That's How I Like It"
The Raging Teens-Rock n Roll Party


The Raging Teens - Rollin' Pin Mim
The Raging Teens - Let's Drink Some Booze
The Raging Teens / Snowbound
Raging Teens---I'm On Fire