25 décembre 2009
5
25
/

12
/

décembre
/

2009
16:18
L'histoire commence avec Walter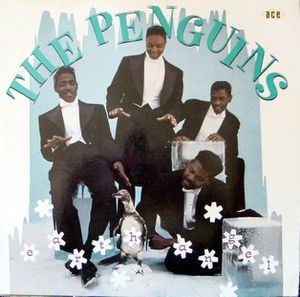 "Dootsie" Williams est un trompettiste professionnel qui entre autre joue dans l'orchestre de Roy Milton The Solid Senders. En 1949 il se consacre à la production d'artiste, il travaille pour Blue Records (une nouvelle filiale de MGM consacré à la musique noire) et signe Big Joe Turner (jump blues), Johnny Taylor(blues), Bruce Collins (golspel) et Hattie Noel. En 1953 voyant la popularité des groupes vocaux (comme The Flairs et The Lamplighters) auprés des teenagers et décide de créer son propre label Dootone records.
Le premier groupe qu'il produit sont the Medallions, et en 1954 il signe les Penguins.
Le groupe est un quartet formé par Curtis Williams (basse qui est un ancien membre des Flamingos, des Hollywood flames) Cleve Duncan (tenor), Bruce Tate (Bariton) et Dexter Tisby (second tenor). Le groupe enregistre tout dabord en backing vocal du bluesman Willie Headen There ain't no news today (DooTone 345), puis fin 1954 ils enregistrent dans la même session Hey Senorita et Heart Angel.
En Décembre 1954, Hey Senorita (Dootone 348) atteind le haut du hit parade R & B, et en Janvier 1955 Earth Angel atteint le Top Ten des Charts pop nationaux et devient un des gros tubes de l'années 1955. On peut noter des covers dont la trés célèbre du groupe blanc The Crew Cuts qui obtiendra elle aussi un trés gros succés. Les Penguins enregistrent d'autres trés bons simples mais leur manager Buck Ram qui vient de découvrir The Platters, se consacre plus à cette nouvelle formation au dépend des Penguins. En peut noter que c'est Ram qui fait signer The Penguins chez Mercury, mais en 1956 ils quittent Mercury pour Atlantic durant une brève pèriode avant de revenir chez Doo tone en 1957, Curtis Williams est remplacé par Teddy Harper. En 1959 sort leur lp The cool, cool penguins mais la formation finit par se séparrer à la fin des années 1950.
L'album Ace (CH 249) de 1988 compile la majeur partie des enregistrements Doo wop et rhythm and blues vocal du group soit Earth angel (will you be mine), Hey senoita, kiss a fool goodbye, Ookey ook, love will make our mind go wild, Baby let's make some love, lover no fool, Do not pretend, If you're mine, be my lovin' baby, Cold heart, Sweet love, Let me make up your mind, butterball, money talks, Heart of a fool, Want me et That's how much i need you.


The Penguins - Earth Angel
The Penguins " Earth Angel" and " Hey Senorita

THE PENGUINS - EARTH ANGEL live