27 septembre 2010
1
27
/

09
/

septembre
/

2010
16:23
The Keytones est une formation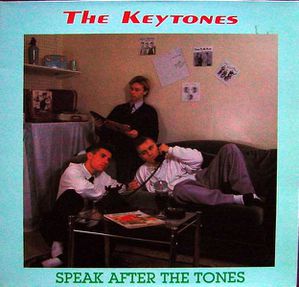 de Rock n'roll Jump and Jive anglaise formée en 1983 par Jarrod Coombes (contrebasse et leader vocal), James Knowler (guitar et choeur) et Peter Deane (batterie et choeurs). Jim et Jarrod commence ensemble avec Andy Kowler à la batterie dans un trio de rock n'roll the Rocking trio reprenant du Eddie Cochran, Gene Vincent et Elvis Presley.
C'est au mileu des années 1980's qu'ils obtiennent le top de leur popularité lorsqu'ils se distinguent de la plupart des autres formations de rock n'roll de l'époque qui se consacrent plutôt de leur côté au Néo rockabilly ou au Rockabilly teddy boys qu'au jump and jive. C'est en 1987 qu'ils enregistrent l'album Speack after the tones (Keytones records KEY 1YR) il contient 12 bonnes compositions de Jump and Jive de James Knowler sauf le titre Munsters, tout en subtilitées avec des riffs de guitare empruntant quelques fois plus au jazz qu'au rock n'roll et des harmonies vocales d'une grande harmonie comme Ghost of lonely heart, I guess you'll never know, Swimming in pink champagne, Angel from paradis, Only for you, Tickity tock of the clock, Stars in your eyes, Stained glass lies, Whats cookin' tonight, Girl et My Gals been foolin' around.
Je possède également du groupe le lp Shake your hips! (Roof records - RR 103301) dans lequel Peter Deane est remplacé à la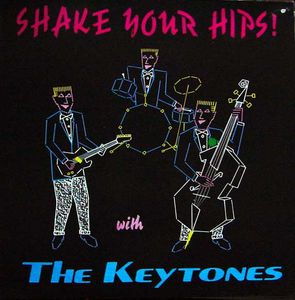 batterie par Shaun O'Keefe. Le disque est plus pêchu que le précédent avec des influences plus variées du néo rockabilly au doo wop, nous trouvons les titres Shake your hips (du rockin' blues avec cette cover ), Coastin' along (trés bon doo wop) , Lonely road (un néo rockabilly rapide), Why do you fall in love (du Doo wop cover de Frankie Lymon & the teenagers), The Munsters (nouvelle version de l'instrumental déjas présent sur le disuqe précédent) , That's when your heartaches begin' (ballade jive doo wop) , Swimming in pink champagne (du jump titre présent sur l'album précité), Now's the time (un néo rockabilly trés speed), Soft Pillow (un jump jive dans le style du 1er album mais au rythme plus soutenu), Volare (cover du succés en italien de Domenico Modugno traité façon vocal group) , Good to be alive (doo wop jive) et Only for you (une ballade mélancolique).