31 janvier 2010
7
31
/

01
/

janvier
/

2010
21:09
Les Honeydippers sont un duo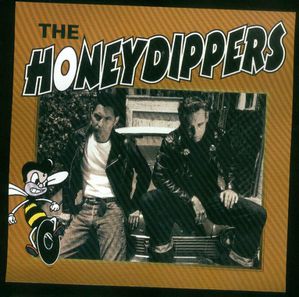 de Rockabilly de la région d'Hollywood (Californie) durant les 2 années de vie du duo il sort deux cds. The Honeydippers sont formés de Danny B Harvey à la guitare (ayant fait partie des Rockats, Levi Dexter & the ripchords et Twenty flight rock) et de Fary Twinn au chant (ayant fait partie des Twenty flight rock et Knockout drops).
Je possède leur premier album Big E Boogie qui sort sur Shattered music ( sha 011-2) et qui est réalisé dans le studio personnel de Danny, Danny et Gary ecrivent 11 des 15 titres du cd et joue de tout les instruments.
Au niveau des compositions nous trouvons Lovesick (magnifique ballade rockabilly) , Cadillac style (Néo Rockabilly rapide dans le style des Rockats), Honneydipper stomp ( Instrumental avec de beaux riffs de guitare pickin bluegrass) , Honneydipper blues (un rock n'roll avec mélodie bluesy trés réussie), All i want is you (Médium rock), Hotrod man (Néo rockabilly blues), Crying (Bon Slow rhythm and blues doo wop dans le style des Stray cats 3eme album) Subway train (Néo rockabilly avec bonne mélodie), Liberty Jane (rockabilly medium), Don't talk about love (ballade rockabilly), Out of control ( néo rockabilly rapide) et au niveau des covers nous trouvons Love my baby (Rockabilly Sun d' Hayden Thompson) , Rocket in my pocket (white rock de de Jimmy Lloyd), Live fast, love hard, die young ( le classique de Faroun Young) et Think (des Five Royales).
En résumé il sagit d'un album de néo rockabilly au style original, avec des compositions de grande qualité et une production parfaite et des reprises avec une réapropriation stylistique parfaite.


WHISKEY HOLLAR BLUES - DANNY B HARVEY (2 eme album)
.