25 décembre 2009
5
25
/

12
/

décembre
/

2009
14:35
The Heartbeats est une formation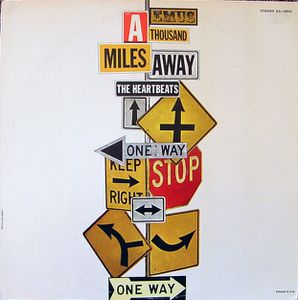 Doo Wop de la seconde moitier des fifties, la formation s'appelle dans un premier temps The Hearts, mais change de nom lorsque un Girls group homonyme obtient un hit au Bilboard, le chanteur leadeur James "Shep" Sheppard rejoint ensuite le groupe. Ils obtiennent en 1956 et 1957 un gros hit avec la ballade A thousand miles away. On peut noter la sortie d'un trés bon lp, puis la formation se séparre en 1959 en laissant quelques classiques du doo wop comme par exemple Crazy for You et Darling How Long.
Le groupe changera souvent de label durant sa courte existence passant de Hull, Rama, Roulette, Gee et Guyden. En 1961 l'ancien leadeur forme un trio de doow op Shep & the Limelites qui obtiendra deux hits Daddy's home et Our anniversary.
L'album A thousand miles away sur Emus records (ES-12033) est un album de doo wop type classique qui alterne slow et doo wop plus rapide avec des titres comme A thousand miles away & Crazy for you (sont effectivement deux splendides ballade doo wop et Crazy For you n'est pas s'enn rappeller mélodiquement Ten commandement of love popularisé par les Moonglows), One day next year & After new year's eve (Is over) sont deux titres dans la veine des Flamingoes, Everybody is somebody's fool et Lonely lover rappelle plutôt le style des Platters,Down on my knees & Sometimes i wonder sont deux autres ballades doo wop moins connu quue A thousand miles away mais d'une qualité équivalente et les clouts de l'albums deux trés bon rhythm and blues vocals rapide avec riffs de guitare blues I want to know et found a job.
A Thousand Miles Away---The Heartbeats
The Heartbeats - Down On My Knees 78 rpm! 1958

The Heartbeats - One Day Next Year 78 rpm! (Roulette) 1958