14 mai 2012
1
14
/

05
/

mai
/

2012
21:37
Winley Records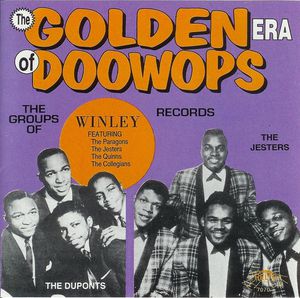 est un petit label qui a pourtant permis de faire voir le jour à un classiques incontournable du doo wop le génial Zoom Zoom Zoom des Collegians.
C'est évidemment ce titre qui débute le disque il est accompagné par deux autres titres de the Collegians le medium Tonite Oh Tonite dans le style de Zoom Zoom Zoom et la ballade doo wop medium classique mais plutôt réussie On Your Merry Way, the Paragons est une autre formation connu du label avec 4 simples contenant 6 ballades Kneel And Pray (aux style proche des Five Satins) Don't Cry (à la mélodie maitrisé avec de belles envolées vocale aigues soutenu à la fois par les chœurs gospels et le piano blues), So You Will Know (dans le style des Moonglows), Just A Mémoire (plus inspiré par the Platters) et les deux titres nous faisant partager un même amour avec ses joies et ses peines soit Florence et Florence, Don't Leave Me, deux bon rock 'n' roll vocal comme le medium Give Me Love, et le plus rapide Doll Baby, the Jesters enregitrent trois simple contenant des ballade de rhythm and blues vocal The Wind qui se caractérise par interprétation déchirante qui saura toucher le cœur des plus insensible, That's How It Goes plus medium mais tout aussi époustouflant vocalement et Come Let Me Show You au style proche de the Spaniels, le rock 'n' roll vocal « très Coasters » Sally Green, le doo wop rapide Uncle Henry's Basement, et la cover très très originale du classique de Little Richard Tutti Frutti.
Les autres formations n'enregistreront qu'un unique simple comme the Quinns avec leur dynamique rock 'n' roll vocal dans le style de the Eldorados Hong Kong couplé à la ballade Oh Starlight, the Persuaders avec le génial doo wop rapide Tears et le médium et amusant What Will It Be, Little Anthony & The Duponts avec la ballade medium You dans le style de the Penguins, et le très bon rhyhtm and blues vocal rapide Must Be Fallin' In Love, Charlie White & Group avec le blues medium Nobody's Fault But Mine et la ballade blues aux accents gospel Dearest To Me, the Callenders avec le très bon doo wop rapide What Are You Gonna Be couplé à la ballade If I Could Hold Your Hand et nous trouvons un titre de Tommy Collins accompagné par The Paragons interprétant la ballade rhythm and blues Darlin' I Love You.
Ce disque vous envoutera par le son si particulier de ces formations toutes influencé par les bases de blues et gospel de la musique noire américaine.