14 mai 2012
1
14
/

05
/

mai
/

2012
21:35
Flash records est un label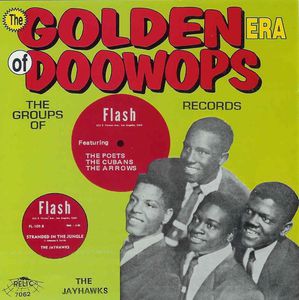 indépendant qui donne durant les années 1950 à cinq formations de mettre en boite un ou plusieurs simples.
La formation phare du label est the Jayhawks qui enregistre 3 simples composés de 6 titres les trés belles ballades mélancoliques Counting My Teardrops (titre présent également dans une prise différente), My Only Darling, le dynamique jive Love Train, et deux très bon rock 'n' roll vocal The Devil's Cousin (présent également dans une prise différente) et la cover du classique de Kip Tyler Stranded In The Jungle.
Les autres formations du label n'enregistreront qu'un seul simple comme The Cubans avec le rapide You've Been Gone So Long aux sonorités gospels avec un beau solo de guitare blues et la ballade dans le style des Spaniels Tell Me, le disque rajoute trois inédits Can't You See (une ballade mélancolique superbe quoique de conception classique), Don't Go Baby (une ballade rhythm and blues)et surtout Oh Miss Dolly (un rock 'n' roll vocal dynamique aux accents gospel),the Poets avec le doo wop jive rapide Vowels Of Love et Dead un medium doo wop amusant dans le style de Three cool cats des Coasters (les deux titres sont également présents avec une prise alternative chacun), the Emanon four font Oh That Girl un jive rhythm and blues superbement interprété couplé à la ballade blues Blues For Monday et the Hornets avec la belle ballade rhythm and blues vocale Crying Over You dans le style des Spaniels (présent également sur le disue dans une prise alternative) et le surprenant Tango Moon au rythme de tango !!!
Ce disque même s'il ne contient aucun classique n'est d'un style plutôt homogène ( doo wop teinté de rhythm and blues) des plus agréable avec aucun titre ennuyeux.