14 mai 2012
1
14
/

05
/

mai
/

2012
21:38
Tous les enregistrements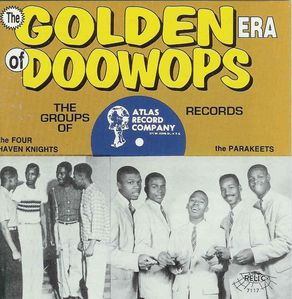 du petit label Atlas records seront l'œuvre du talentueux producteur Thomas Robinson, même si aucune des 11 formations doo wop du label n'obtient de tube national, la qualité de ces dernières est indéniable.
Certaines d'entre elle enregistrent 2 simples pour le label comme the Four Haven Knights avec les 3 ballades la medium I'm Just A Dreamer, Why Go On Pretending (au style Platters et accompagnement blues) et Just To Be In Love plus classique (avec accompagnement blues)et le bon doo wop rapide In My Lonely Room, the Parakeets avec l'original doo wop medium et efficace Rain Starts To Fall, le très bon jive rapide My Heart Tells Me, la ballades bluesy moins excitantes Yvonne et la ballade doo wop classique I Have A Love, Vic Donna & The Parakeets avec leur rock 'n' roll jive medium Silly And Sappy ont probablement mis en boite le titre classique du label , ils enregistrent aussi un bon doo wop medium Count The Tears couplés à des ballades blues lentes Teenage Rose et Love Was A Stranger To Me.
Les autres formations se contenteront d'un simple unique comme the Caverliers avec l'efficace rhythm and blues vocal medium Dynaflow et la très belle ballade bluesy You Thrill Me So, the Five Dukes avec le rock 'n'roll vocal rapide aux solos de guitare blues Wheel Baby Wheel et la ballade mélancolique I Cross My Fingers, the Gypsies avec le rock 'n'roll vocal Young Girl To Calypso très réussi avec son solo de sax et la ballade doo wop à la mélodie classique mais efficace émotionnellement Why , the Revels avec la ballade mélancolique My Lost Love mais surtout avec le doo wop medium aux accents de gospel Love My Baby, the Travelers avec le splendide doo wop rapide Lenora couplé à la ballade rhythm and blues Betty Jean et une mention spéciale pour le très bon doo wop rapide pourtant inéditLove Is All I Crave, Roscoe Thorne avec ses ballade rhythm and blues Dolores et Peddler Of Dreams quelques peu enuyeuses en comparaison au reste du disque enfin the Fi Tones interprette deux ballades plutôt réussies la blues It Wasn't A Lie et l'inédite doo wop Let's Talk It Over.
Dans l'ensemble ce disque Relic est aussi une belle réussite en sachant habillement placé les titres lents avec ceux au rythme plus relevé.