28 janvier 2010
4
28
/

01
/

janvier
/

2010
00:05
The girl can't help it (en français La blonde et moi) est une comédie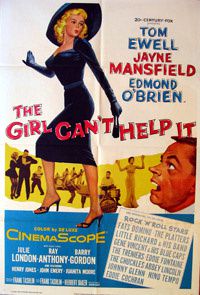 (avec morceaux chantées) réalisé par Flank Tashlin en 1956. Le scénario est inspiré d'une nouvelle de Garson Kanin Do Re Me, un malfrat (joué par Edmond O'Brien) qui est un ancien roi des jeux clandestins décide de se marier avec une superbe blonde (jouée par Jayne Mansfield), mais il veut avant qu'elle devienne une grande star de la musique. Pour arrivé à ses fin il fait appelle à un ancien impresario (jou"é par Tom Ewell) qui s'est fait une réputation en faisant de la chanteuse Julie London une Star, mais aprés avoir était quitté par cette dernière avec qui il avait également eut une aventure amoureuse, sombre dans l'alcoolisme.
La comédie fait derrière cette petite histoire une satyre du Rock n'roll qui en 1956 est le plus grand phènomène culturel de l'histoire des USA qui fait peur à l'amérique bien pensante.
Mais l'effet sera inverse il deviend dés sa sortie le film est une référence pour les teenagers fan de rocks qui peut y voir ses rockers préférés et pas des moindres: Gene Vincent qui chante Be bop a lula, Eddie Cochran qui chante Twenty Flight Rock, Little Richard qui chante She's got it et The girl can't help it, Fats Domino qui chantent Blue Monday, Eddie Fontaine qui chante Cool it baby, mais aussi The Treniers, The Platters, The three chuckles et d'autres.
Ce succés est probabalement du au choix des artistes (qui sont quelques un des plus représentatifs du style musical) mais aussi à la mise en scènes, au montage et aux magnifiques couleurs (DeLuxe Color)de chacun des passages musicaux qui sont absolument fabuleux
Les morceaux musicaux sont : "The Girl Can't Help It" - Little Richard, "Tempo's Tempo" Nino Tempo, "My Idea of Love"& "I Ain't Gonna Cry No More" Johnny Olenn, "Ready Teddy" & "She's Got It" Little Richard, "Cool It Baby" - Eddie Fontaine, "Cinnamon Sinner" Teddy Randazzo and the Three Chuckles, "Spread the Word" Abbey Lincoln, "Cry Me a River" -Julie London, "Be-Bop-A-Lula" Gene Vincent and the Blue Caps, "Twenty Flight Rock" Eddie Cochran, "Rock Around the Rockpile" - Ray Anthony Orchestra "Rocking Is Our Business", The Treniers "Blue Monday", Fats Domino, "You'll Never, Never Know" The Platters, "Every Time You Kiss Me" Jayne Mansfield.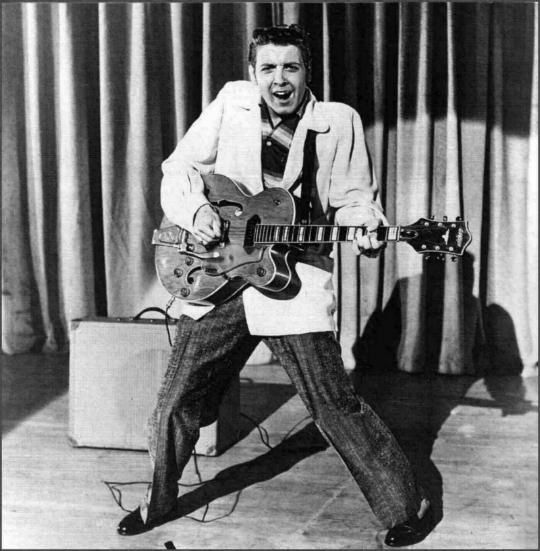 Eddie Cochran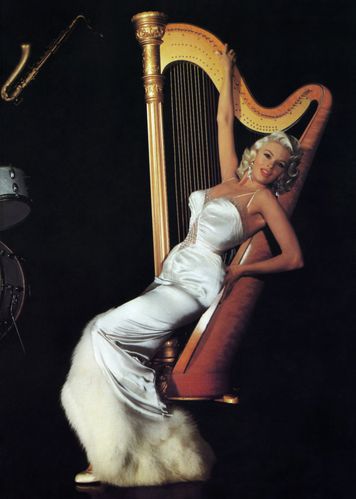 Jayne Mansfield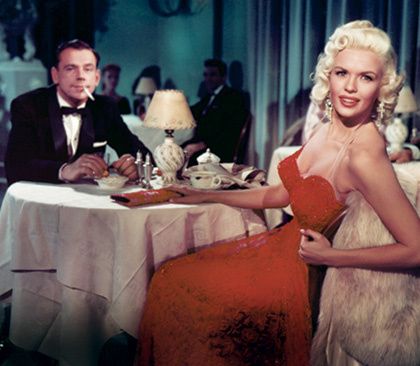 Tom Ewel et Jayne Mansfield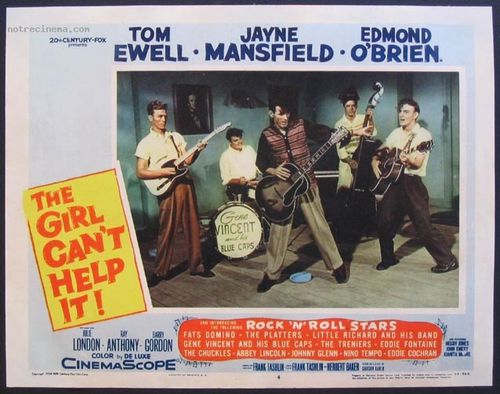 Gene Vincent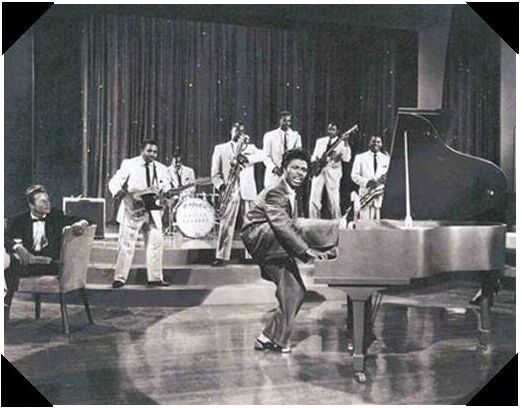 Little Richard
.