14 mars 2010
7
14
/

03
/

mars
/

2010
21:05
<>C'est en 1998, que Scotty Tecce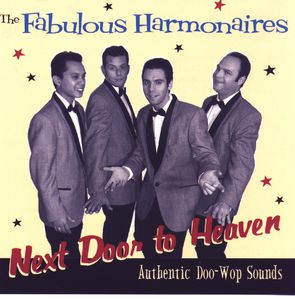 et Mike Napodano décide de former un groupe de doowop dans la plus pure tradition de leurs idôles Dion and the Belmonts. Ils sont rejoint rapidement par Jay Ragojo et Omar Yee Foon. Ils enregistrent tout d'abord un trés prométeur ep pour flipside records King of the world qui leur permet d'obtenir un véritable triomphe lors de leur passage au Viva Las Vegas Weekender de 2000 et 2002.
En 2004 ils sont rejoint par la basse vocale Bill Kay. Ce qui leur permet d'enregistrer l'album Next door to heaven qui sort sur Crow records (Crow5004) qui s'avèrent être sans doute le meilleur album du genre depuis le début de la décennie. Il contient 15 compositions absoluments irréprochables aussi bien du point de vue mélodique que vocale faisant avec grand talent un tour des différents styles qui caractérise le doo wop depuis la première moitier des années 1950 jusqu'au début des années 1960's.
On doit aussi parler de leurs prestations scéniques subjugantes dues au talent de la chorégraphe Elaine Hewlett.
Pour revenir à l'album Crow records, il se compose d'une suite de 13 compositions époustouflantes de qualité mélodique et vocale rendant hommage aux grandes formations du style Two steps ahead (doo wop rapide typique de la fin des 1950's), Chicken Hawk (un rhythm and blues vocal rapide avec riffs de guitare blues rapide rappelant des groupes du style de la première moitier des fifties comme The Cadillacs), Next door to heaven (medium doo wop du style du Runaround sue de Dion and Belmonts), Wake up (un doo wop dans le style des Marcels), King of the world (une ballade dans le style des 4 seasons), I never knew (un doo woop au style proche des Del Vikings avec beau solo de sax), Kristine (un doo wop typique du début 1960's avec influence mélodique de Dion), What came over me (Slow mélancolique dans le sillage de Little Anthony and the Imperials typique de la moitier des fifties avec accompagnement de guitare cristalin et solo de sax, Rainy day (doo wop rythmé fin fifties dans le genre des Earls), Been too long (un médium rock doo wop avec solo de saxophone), She's every where i go (ballade doo wop), Church bells may ring (belle du doo wop rapide des Willows), Love's a game (encore une composition dans le style des oeuvres de Ernie Maresca pour Dion & Belmonts), The greatest heartbreack (doo wop rapide particulièrement brillant) et Three chick guy (un véritable petit classique du doo wop rapide avec un magnifique solo de guitare) en résumé un album de doo wop incontournable pour tout amateur de Doo wop classique.
The Fabulous Harmonaires - Wake up
Fabulous Harmonaires - 3 Chick Guy
Fabulous Harmonaires - Love's A Game
Fabulous Harmonaires - Next Door to Heaven
Fabulous Harmonaires - King of the World

Fabulous Harmonaires - Church Bells May Ring