18 juillet 2010
7
18
/

07
/

juillet
/

2010
00:05
The Dells est une des rares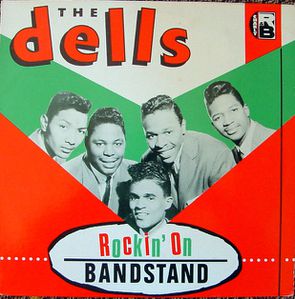 formations Doo wop à encore avoir des tubes en haut des charts à la fin des 1960's, en effet en 1969 ils obtiennent un hit international avec leur simple soul Sing a rainbow /Love is blue.
La pèriode qui nous interresse concerne leurs faces rock n'roll des années 1955 - 61.
En 1953 Johnny Funches (leadeur tenor), Verne Allison (Tenor), Lucius McGill (tenor), Mickey McGill (Bariton), Marvin Junior (Bariton) et Chuck Backsdale (basse) enregistrent sous le nom de the El Rays poyr Checker records (filiale de Chess). En 1955 Lucuis quitte le groupe, le quintet renommer The Dells part chez Vee Jay records, ils obtiennent des hits dont le plus important est Oh what a nite qui montera à la 5 eme place des charts R & B en Octobre 1956. Même si ce titre est plutôt une ballade Doo wop, dans l'ensemble les titres Vee Jays des Dells sont plutôt rythmés et à classer du côté du rhythm and blues vocal, des Jivers et des Boppers comme les excellents Come on baby, Zing zing zing, I wanna go home et Swinging teens, on peut noter la présence du Sax tenor Cliff Davis dans le style de King Curtis.Swinging teens enregistré en 1961 dans lequel Johnny Carter (ancien membre de The Flamingoes) remplace Funches est un des derniers titres de la pèriode doo wop des Dells.
L'album Rockin' on Bandstand de Charly records (CRB 1056)compile ces faces mémorables de doo wop rock rythmé comprenant l'ensemble de leurs enregistrements Vee Jay 1955 - 1961 soit Jo-jo, Zing, zing, zing, I can't help myself, Dance, dance, dance, Time makes you change, Wedding day, Oh what a nite, Swingin teens, Baby open your heart et I wanna go home associés à des inédit tout aussi bons comme Baby do, Come on baby, At the bandstand, Cherry Bee, Restless days, Sleepless nights et I can't dream.