24 août 2010
2
24
/

08
/

août
/

2010
23:59
Les Bugaloos est une f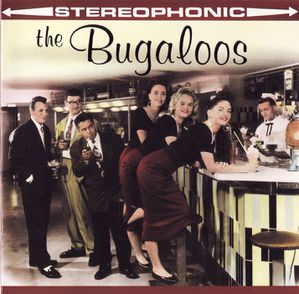 ormation hollandaise formé de 3 musiciens masculins (guitare, batterie et contrebasse) qui accompagnent avec un son rockabilly authentique 3 chanteuses (dont Lil' Ester qui fera une carrière solo durant la décennie suivante) dont le chant s'inspire de formations des fifties comme les Fontane Sisters ou des 1940's comme les Andrew sisters.
Le 1er album de 1990 The Bugaloos qui sort sur Rockhouse (aujourd'hui trés rare) que je possède dans sa version cd (Rock CD 8912) se compose de Rock me Robert (une composition rock n'roll jump), Some day you'll pay (une originale cover du hillbilly des Delmore Brothers), Rock love (cover également trés originale du rock n'roll d' Eddie Fontaine), Hop skip and Jump (Cover des Collins kids), Waiting for a kiss from you (une composition plutôt influencer par les Andrew Sisters), Say Yeah (cover de Bobby Sykes), I don't mind (Cover d'un hillbilly boogie de Pee Wee King), Seventeen (Cover du classique jump rock de Boyd Bennett), Teen Cats Down (cover d'un rockabilly féminin de Sun records des Miller sisters), Dungaree Doll (un cover d'un titre variété d'Eddie Fisher dans une version swing), Twenty six miles (cover trés originale d'un titre de vocal des Four Preps), Rick a tick song (une composition swing dans le style des andrew sisters). Boy with the bebop glasses (cover du jump rock de Jack and Misty), Two Hearts, two Kisses (est une cover rockabilly swing d'un titre de Otis williams and the Charms repris durant les fifties par Frank Sinatra, Pat Boone et The Crew Cuts), Jump junior jump (cover d'un groupe vocal féminin the Laurie Sisters), Bad bass boogie (cover de The Don Gils), Crazy 'bout you baby (cover des Crew Cuts) et My boy flat top (une cover du jump rock de Boyd Bennett qui sera repris par Dorothy Collins).
Cet album est dans son ensemble une belle réussite aussi bien au niveau de son style originale que de ses voix et son accompagnement sans failles.
En 1991 The Boo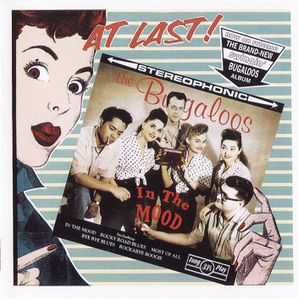 galus enregistrent un second album In the Mood toujours pour Rockhouse (ROCKCD 9318) il contient les titres Rockabye boogie (reprise d'un hillbilly boogie qui sra popularisé durant les fifties par Porter Wagoner), Most of all (fabuleuse et originale cover de la ballade doo wop des Moonglows), Be bop baby (cover d'un rockabilly de Autrey Inman de 1956), Baby i love you so (cover jazzy swing du rock de Jack Riggyr Petty), At the old town hall (cover du hillbilly boogie de Hugh Ashley), Love me cover trés originale est assez du rockabilly sauvage de Wayne Walker, Rocky road blues (version complètement revue du classique de Bill Monroe), In the Mood (cover du méga classique de Glen Miller ici tout naturellement inspiré par la version faite durant les 1940's par The Andrew Sister's) Crazy real gone jive (excellent country rock), Bye bye blues (est une belle cover d'un vieux jazz de 1930 écrit par Fred Hamm, Dave Bennett, Bert Lown, and Chauncey Gray, Frankie's out on patrol (un rock teinté de swing et de jazz) et You can do no wrong (une belle reprise du rockabilly classique de Carl Perkins mais avec le chant masculin du guitariste et sans la présence des 3 chanteuses)