10 mai 2010
1
10
/

05
/

mai
/

2010
13:02
The Bop Pills est une formation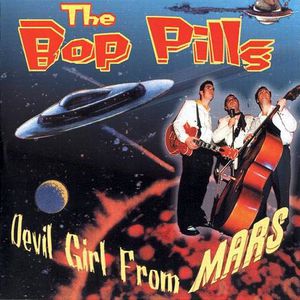 de Rockabilly authentique (originaire de Barcelone) espagnole formé par Jorge Nunes (chant et guitare rythmique) Mario Cobo (guitare solo) et Daniel nunes ( contrebasse). En 2000 parait un ep Plan Nine from Outer Space, suivi d'un album CD en 2001Devil Girl From Mars sur Hayride records (RACD03) album particulièrement réussi qui contient 14 titres dont 13 compositions originales de Rockabilly rapide et puriste sans batterie avec juste un slapping bass pour le rythme. Nous y trouvons donc les titres Empty bottle blues, Big mouth'd baby, Burn baby burn, I'll never let you go, A place to stay, Trouble baby, More more, Devil girl from Mars (rockabilly bien sauvage), Red Headed tailor, I'be a richman tonight, Bad bad news, Plan 9 from outer place (dans le style de Billy Lee Riley chez Sun records), T.N.T. love et Never felt like this (une cover de Jack Scott). La qualité des composition est tel qu'on croirait entendre des obscures rockabilly enregistré sur un tout aussi obscure label du Sud des USA durant les 1950's.
En 2002 ils sortent un second album Gun Crazy toujours sur Hayride records (HRCD 1003), mais cette fois ci avec un batteur, cela ne nuit pas au caractèreb puriste des enregistrements ni aux rythmes soutenus de chacun des titres, sur cet album également nous ne trouvons que des compositions originales dans des styles plus variés tel que Cat food, Walkin' home again (rockabilly medium rappelant Johnny Horton), Tren Solitario (version espagnol du Lonesome train de Johnny Burnette & rock n'roll trio),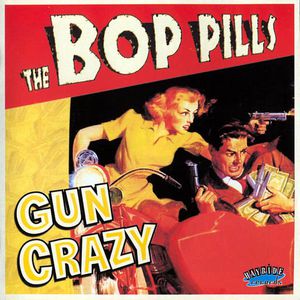 Bop Pills (rock n'roll avec choeurs), Gun crazy (hillbilly skiffle), Everybody but me (rockabilly avec intro jazzy), The flu (white rock), Melodia de Arrabal (un titre en espagnol trés "jazz gitan" assez surprenant), Turnaround boogie (instrumental dans le style de Chet Atkins), I'm still rockin' but i'm sad and blue (rockabilly médium avec une trés bonne mélodie), Tears of happiness, You only need me et Bad luck, heartaches and trouble (3 rockabilly rapides).
Bop Pills - I'll never let you go